A groundbreaking new chamber opera by Errollyn Wallen, celebrating the life of forgotten blind composer & performer Maria Theresia von Paradis. After a tremendous spring tour, you'll also be able to stream the show online. Check back on the release date!

Find out more

With our friends 20 Stories High, we're casting for a young (18-30) disabled or neurodivergent performer, for an exciting new show in 2022.

Find out more

TRAINING & LEARNING

Maria Theresia von Paradis inspired the team at Graeae and now we want to know what inspires you? It could be a place, a person or even yourself. Send us your inspirations to the Von Paradis Exhibition and have your work displayed online.

Find out more

TRAINING & LEARNING

We're inviting Deaf, disabled or neurodivergent children to join our new drama group in – a new online space for drama. Get in touch with mette@graeae.org

Find out more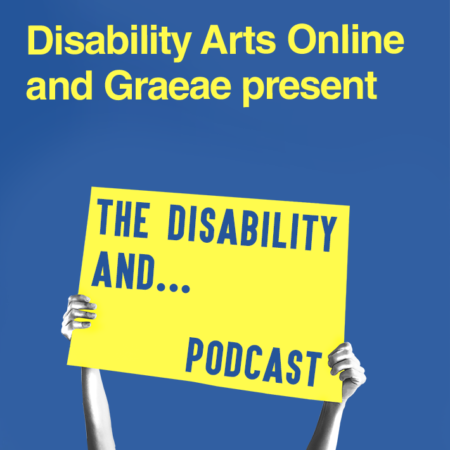 Graeae and Disability Arts Online present a new Podcast series, getting right to the heart of some of the most pressing issues in arts, culture and beyond through a collection of bold, provocative and insightful interviews with disabled artists and key industry figures. Transcripts for all episodes also available.
LISTEN & SUBSCRIBE NOW
In conversation with: Artistic Director, Jenny Sealey and Librettist, Nicola Werenowska Listen to the audio version. Jenny: Do you remember the very beginning with the five of us, you, me, Selina (Co-Librettist and Original Idea), Errollyn (music) and Andrea (Musical Director and Conductor) sat in the Graeae hub listening to Selina tell us the story […]

READ MORE

Director Nickie Miles-Wildin talks about her upcoming show Kerbs by Michael Southan. Can you start by telling us a bit about the narrative of the play? Who is Kerbs about and what happens in it?  Kerbs follows Lucy and David as they embark on a dating app. Their first date doesn't quite go according to plan and there's […]

READ MORE

Assistant Director, Britny Virginia gives us an insight into the Kerbs rehearsal process. WEEK ONE Haven't we all tripped over a kerb (or two) at least once in our lives? No? Okay maybe it's just me but this is not the type of kerb I'm referring to today. I'm referring to the trailblazing play written […]

READ MORE