Graeae's Artist Development Programme
Watch Graeae's Artist Development Manager talk about BEYOND
Graeae's Artist Development Programme
Watch Graeae's Artist Development Manager talk about BEYOND
TRAINING & LEARNING

Beyond is helping to develop greater access to regional opportunities across England ensuring Deaf, disabled and neurodivergent artists are at the forefront of new and emerging work.

Find out more

WHAT'S ON

We're back at Edinburgh Fringe this year with a new play by our very own Artistic Director, Jenny Sealey and Mike Kenny. 2- 27 August. Tickets on sale now!

Find out more

New dates of our next Crips with Chips event at Theatre by the Lake will be announced soon!

Find out more

WHAT'S ON

New show touring this autumn! This raucous, radical, celebratory & hard-hitting hip hop gig theatre show shares the good times & the not so good times being young & disabled in 2023.

Find out more!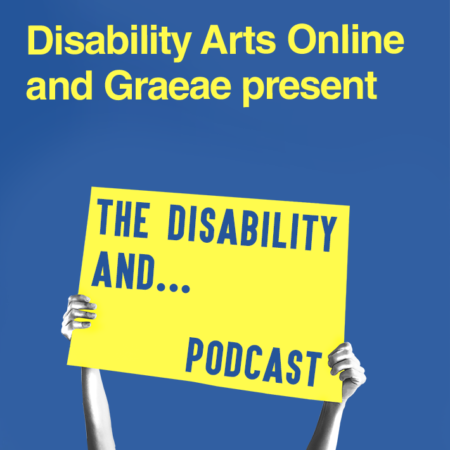 Graeae and Disability Arts Online present a new Podcast series, getting right to the heart of some of the most pressing issues in arts, culture and beyond through a collection of bold, provocative and insightful interviews with disabled artists and key industry figures. Transcripts for all episodes also available.
LISTEN & SUBSCRIBE NOW
Graeae patron, Sir Peter Blake celebrates his 90th birthday on the 2nd December at London's Royal Festival Hall. The concert features live music from legends such as Madness, Noel Gallagher, Roger Daltrey, Paul Weller, Chrissie Hynde and Baxter Dury. All proceeds from the event will go to Graeae and Teenage Cancer Trust. Jenny Sealey […]

READ MORE

On 18 August 2022, we will be celebrating Jenny Sealey's 25 years as Artistic Director and CEO at Graeae. Since 1997, Jenny has been running Graeae with tenacity, kindness and an unwavering commitment to ensuring Deaf, disabled and neurodivergent artists shine in the spotlight, while also nurturing and cultivating a future generation. She has […]

READ MORE

In conversation with: Artistic Director, Jenny Sealey and Librettist, Nicola Werenowska Listen to the audio version. Jenny: Do you remember the very beginning with the five of us, you, me, Selina (Co-Librettist and Original Idea), Errollyn (music) and Andrea (Musical Director and Conductor) sat in the Graeae hub listening to Selina tell us the story […]

READ MORE