WHAT'S ON

Crips without Constraints returns in January 2021! Five brilliant new short plays from Deaf and disabled artists premiering online, performed by a stellar line-up of actors including Dame Harriet Walter, Sharon D. Clarke, Mandy Colleran, Naomi Wirthner and Julie Graham. 

A short documentary about the new opera we're developing with The Stables MK, based on the life of blind 18th century composer Maria Theresia von Paradis, with music by Errollyn Wallen and directed by Jenny Sealey.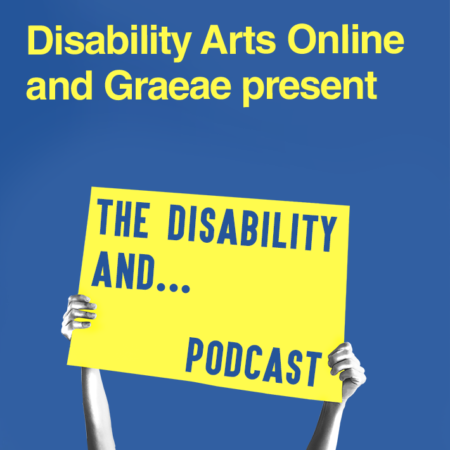 Graeae and Disability Arts Online present a new Podcast series, getting right to the heart of some of the most pressing issues in arts, culture and beyond through a collection of bold, provocative and insightful interviews with disabled artists and key industry figures. Transcripts for all episodes also available.
LISTEN & SUBSCRIBE NOW
Every week for the next five weeks, we'll be getting to know the writers from Crips without Constraints part 2 better, with a five quick-fire question and answer session. This week, it's Kellan Frankland, writer of How Do You Make a Cup of Tea?  Kellan started her Graeae journey on the Ensemble training programme, graduating in 2016, […]

READ MORE

Huge thanks to all our funders, donors and audiences for the support during the unusual year that has been 2020. It's meant that we've been able to continue championing and cultivating the talent of Deaf and disabled artists at all stages of their career. We couldn't have done it without you! Click here to listen […]

READ MORE

Register below. Thursday 3 December 2020, 7pm – 9:30pm GMT Three chances to catch Thrive Aid-The Art of Protest, a premiere international collaboration of disabled artists from around the world; coming together to protest the stigma disabled people world-wide face every day!! Thrive Aid-The Art of Protest is a world-wide virtual event that will debut […]

READ MORE