WHAT'S ON

A groundbreaking new chamber opera by Errollyn Wallen, celebrating the life of forgotten blind composer & performer Maria Theresia von Paradis. Touring the UK this Spring!

Find out more

TRAINING & LEARNING

If you're aged 14 – 18, Deaf, disabled and/or neurodivergent, love theatre and acting, and want to develop your practice… take a look at joining our Young Company.

Open day on Zoom on Saturday 19 February.

Find out more

TRAINING & LEARNING

We're inviting Deaf, disabled or neurodivergent children to join our new drama group . Come along to a taster workshop, starting every Saturday from 5 February.
Register by 31 January.

Find out more

TRAINING & LEARNING

10 Stages of Reflection, inspired by Shahid Iqbal Khan's 10 Nights.
Book a tailored Zoom workshop for groups aged 14+. Designed and delivered by highly skilled Deaf, disabled and neurodivergent artists.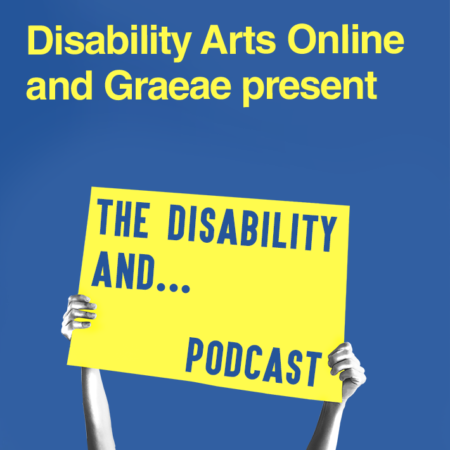 Graeae and Disability Arts Online present a new Podcast series, getting right to the heart of some of the most pressing issues in arts, culture and beyond through a collection of bold, provocative and insightful interviews with disabled artists and key industry figures. Transcripts for all episodes also available.
LISTEN & SUBSCRIBE NOW
Graeae are proud to be a PiPA (Parents and Carers in Performing Arts) Charter Partner, striving towards creating a more family friendly working environment. Graeae are committed to developing best practice in all areas, and we are excited to work together with PiPA in the coming months. PiPA campaigns to enable and empower parents, carers and employers […]

READ MORE

Continuing our commitment to nurturing the talent of the future, the four new posts will cover the areas of directing, devising, new writing and artist development.

READ MORE

Kash Arshad, director of 10 Nights, and Jenny Sealey, Artistic Director of Graeae, sit down at the Bush to chat. They discuss all things 10 Nights – the process of making, the changes to the show, and the ways they have experimented with integrated creative access. Last week, Graeae, Tamasha and the Bush announced that the […]

READ MORE