This is who we are.
Click the play button. Film audio described.
This is who we are.
Click the play button. Film audio described.
TRAINING & LEARNING

Are you Deaf and/or disabled, aged between 17 – 29 and passionate about theatre? Graeae Ensemble is a pioneering Cert HE in Theatre Making and Leadership in creative partnership with Rose Bruford College and is proudly disabled-led. Apply now! Deadline: 1 July 2021.

Find out more

We're always on the look out for brilliant new writing from Deaf and disabled artists. If you've got a script you'd like to share with us, we'd love to read it!

Find out more

Watch our short documentary on the making of our very first opera about the untold story of Maria Theresia Von Paradis. A composer, pianist and singer, who was also known as The Blind Enchantress.

Find out more

We have made a new series of 'How to…' videos for making accessible work online. Check them all out here. All films are audio described and captioned.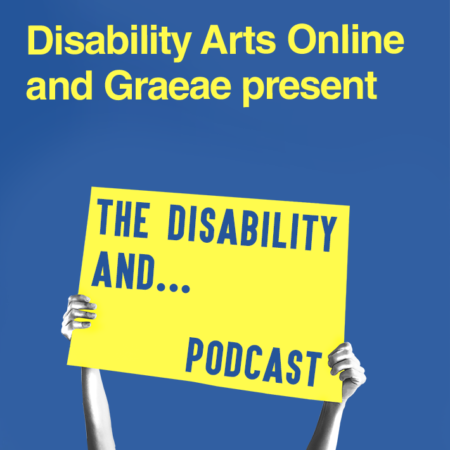 Graeae and Disability Arts Online present a new Podcast series, getting right to the heart of some of the most pressing issues in arts, culture and beyond through a collection of bold, provocative and insightful interviews with disabled artists and key industry figures. Transcripts for all episodes also available.
LISTEN & SUBSCRIBE NOW
Graeae are delighted to be one of the partners on Tamasha Theatre Company's next volume of Hear Me Now, audition monologues for Actors of Colour. With a focus on actors and writers who are either ethnically diverse and/or Deaf or disabled, the new volume will feature over 100 brand new monologues. Conceived in 2016 […]

READ MORE

During the pandemic, Deaf and disabled artists and disabled led companies have – and still are – creating some brilliant, engaging and powerful work. Below are details of some of our highlights, with links to watch or listen, along with details for accessibility of each. We'll try and keep this page updated regularly. If you […]

READ MORE

Every week for the next five weeks, we'll be getting to know the writers from Crips without Constraints part 2 better, with a five quick-fire question and answer session. This week, it's Jessica Lovett, writer of Stuck With You. Jessica is a writer from Shropshire, now based in Bristol.  A Graeae Write to Play graduate, she has also been selected […]

READ MORE