Welcome to Beyond Online, our NEW Digital Library. Here you'll find all our in house resources to support artists at all stages of their careers.

Find out more

WHAT'S ON

Join us for an accessible evening of new writing, live streamed into your home. Tickets are free but you must book!

With our long-term collaborators Naked Productions, we proudly present new audio drama Night of the Living Flatpacks from Deaf/disabled writers & directors, being aired on community radio stations across the length and breadth of the UK throughout November.

Find out more

TRAINING & LEARNING

10 Stages of Reflection, inspired by Shahid Iqbal Khan's 10 Nights.
Book a tailored Zoom workshop for groups aged 14+. Designed and delivered by highly skilled Deaf, disabled and neurodivergent artists.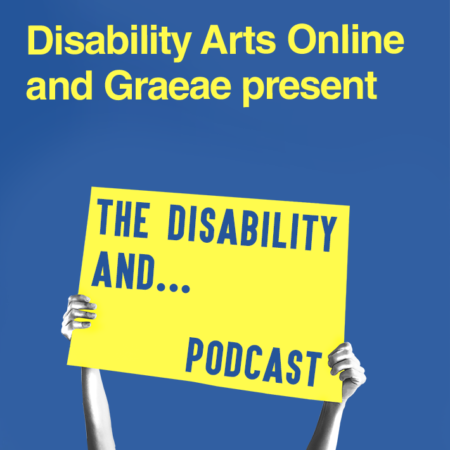 Graeae and Disability Arts Online present a new Podcast series, getting right to the heart of some of the most pressing issues in arts, culture and beyond through a collection of bold, provocative and insightful interviews with disabled artists and key industry figures. Transcripts for all episodes also available.
LISTEN & SUBSCRIBE NOW
Continuing our commitment to nurturing the talent of the future, the four new posts will cover the areas of directing, devising, new writing and artist development.

READ MORE

Kash Arshad, director of 10 Nights, and Jenny Sealey, Artistic Director of Graeae, sit down at the Bush to chat. They discuss all things 10 Nights – the process of making, the changes to the show, and the ways they have experimented with integrated creative access. Last week, Graeae, Tamasha and the Bush announced that the […]

READ MORE

Ahead of his play 10 NIGHTS, we caught up with the very lovely human, playwright Shahid Iqbal Khan. Shahid is an alumnus of Graeae's Write To Play programme in 2018. His plays include The Smile of Despair and Stardust (both with Phizzical Productions) and he recently wrote a short piece Never Been Away for Tara Theatre. What's the best thing about being a […]

READ MORE