News & Opinion

Artistic Director and CEO, Jenny Sealey celebrates her 25th anniversary at Graeae. Jenny shares with us 25 things she has learnt along the way. We can't wait to share many more years with Jenny leading the way!

Find out more

We loved being part of the Greenwich + Docklands festival this year! A beautiful weekend of immersive theatre, celebrating the transformative power of nature all performed in Oliver Macdonalds handmade Woven O.

Find out more

Ever wondered how we go about creating a new accessible production? Our short new documentary goes behind the scenes of our acclaimed 2021 production with Tamasha Theatre Company and the Bush Theatre.

Find out more

We are currently looking to build our Access Worker pool and bring some creative, enthusiastic new freelancers on-board! If you're interested or want more info please contact vicky@graeae.org

Find out more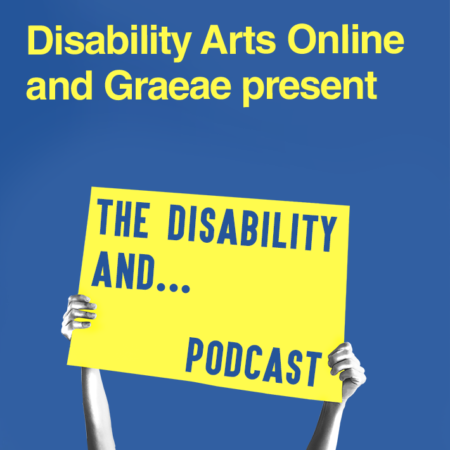 Graeae and Disability Arts Online present a new Podcast series, getting right to the heart of some of the most pressing issues in arts, culture and beyond through a collection of bold, provocative and insightful interviews with disabled artists and key industry figures. Transcripts for all episodes also available.
LISTEN & SUBSCRIBE NOW
On 18 August 2022, we will be celebrating Jenny Sealey's 25 years as Artistic Director and CEO at Graeae. Since 1997, Jenny has been running Graeae with tenacity, kindness and an unwavering commitment to ensuring Deaf, disabled and neurodivergent artists shine in the spotlight, while also nurturing and cultivating a future generation. She has […]

READ MORE

In conversation with: Artistic Director, Jenny Sealey and Librettist, Nicola Werenowska Listen to the audio version. Jenny: Do you remember the very beginning with the five of us, you, me, Selina (Co-Librettist and Original Idea), Errollyn (music) and Andrea (Musical Director and Conductor) sat in the Graeae hub listening to Selina tell us the story […]

READ MORE

Director Nickie Miles-Wildin talks about her upcoming show Kerbs by Michael Southan. Can you start by telling us a bit about the narrative of the play? Who is Kerbs about and what happens in it?  Kerbs follows Lucy and David as they embark on a dating app. Their first date doesn't quite go according to plan and there's […]

READ MORE