This is who we are.
Click the play button. Film audio described.
This is who we are.
Click the play button. Film audio described.
WHAT'S ON

Graeae's accessible scratch night is back! Join us online for an hour of LIVE entertainment from 8pm on Tuesday 20 April. Tickets are FREE. Book now!

Find out more

TRAINING & LEARNING

Are you Deaf and/or disabled, aged between 17 – 29 and passionate about theatre? Graeae Ensemble is a pioneering Cert HE in Theatre Making and Leadership in creative partnership with Rose Bruford College and is proudly disabled-led. Apply now! Deadline: 1 July 2021.

Find out more

Crips without Constraints! Five brilliant new short plays from Deaf and disabled artists premiering online. Performed by a stellar line-up of actors including Dame Harriet Walter, Sharon D. Clarke, Mandy Colleran, Naomi Wirthner and Julie Graham. 

Find out more

We're looking for new trustees of our  board to help guide and steer Graeae strategically.

Apply by Sunday 2 May at 5pm.

Find out more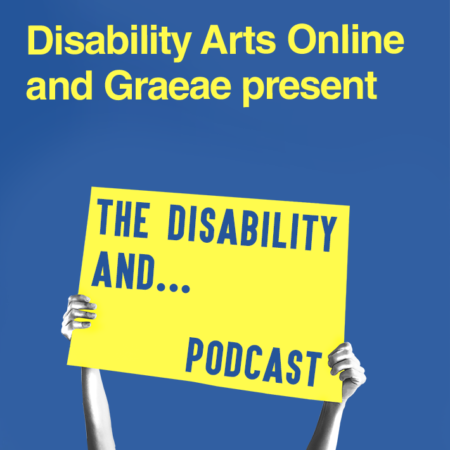 Graeae and Disability Arts Online present a new Podcast series, getting right to the heart of some of the most pressing issues in arts, culture and beyond through a collection of bold, provocative and insightful interviews with disabled artists and key industry figures. Transcripts for all episodes also available.
LISTEN & SUBSCRIBE NOW
Every week for the next five weeks, we'll be getting to know the writers from Crips without Constraints part 2 better, with a five quick-fire question and answer session. This week, it's Jessica Lovett, writer of Stuck With You. Jessica is a writer from Shropshire, now based in Bristol.  A Graeae Write to Play graduate, she has also been selected […]

READ MORE

Every week for the next five weeks, we'll be getting to know the writers from Crips without Constraints part 2 better, with a five quick-fire question and answer session. This week, it's Karen Featherstone, writer of Good Day Bad Day. Karen is a stage, screen  and fiction writer. She's spent time in the story offices of Coronation […]

READ MORE

Every week for the next five weeks, we'll be getting to know the writers from Crips without Constraints part 2 better, with a five quick-fire question and answer session. This week, it's Leanna Benjamin, writer of The Gift. Leanna is from Leeds, and is a graduate of Graeae's Write to Play programme, more recently graduating from […]

READ MORE