Over the next eleven weeks during lockdown, we will continue to celebrate the incredible talent, creativity and resilience of Deaf and disabled artists, with this exciting new digital programme.

We're delighted to be part of the Royal Exchange Theatre's digital festival RX Connect.  The House of Bernarda Alba is free to watch online with captions and audio description.

Find out more

Our critically acclaimed box office hit musical Reasons To Be Cheerful will be available to watch online from the 3 June – 3 August! An audio described version is also available.

Find out more

We're excited to announce our appointment for the Freelance Task Force. Congratulations to artist, poet, songwriter, facilitator and former Graeae board member, Miss Jacqui.

Find out more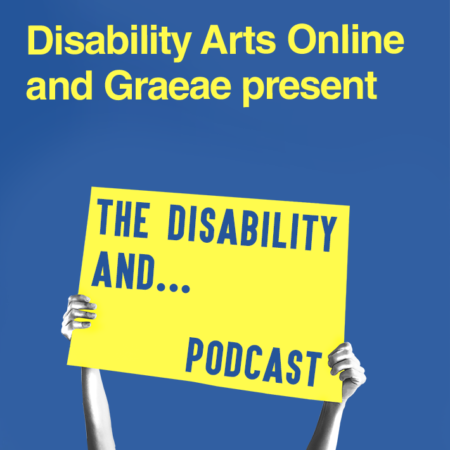 Graeae and Disability Arts Online present a new Podcast series, getting right to the heart of some of the most pressing issues in arts, culture and beyond through a collection of bold, provocative and insightful interviews with disabled artists and key industry figures. Transcripts for all episodes also available.
LISTEN & SUBSCRIBE NOW
We're very excited to announce that Breakneck Films' documentary #SugarWater is now available to watch on Amazon Prime! A behind the scenes documentary following our first performance at The National Theatre. WATCH THE #SUGARWATER DOCUMENTARY HERE #SugarWater charts the journey of Graeae's first ever production at the National Theatre in spring 2016 with Jack Thorne's The […]

READ MORE

An open letter to the Culture Secretary from Deaf and disabled cultural leaders, artists, and inclusive companies on safeguarding the future of disability arts in the UK.

READ MORE

Our statement on Black Lives Matter.

READ MORE