Watch the trailer
for This Is Not For You, world premiere Summer 2018
Watch the trailer
for This Is Not For You, world premiere Summer 2018
WHAT'S ON

WORLD PREMIERE | Summer 2018

Part of 14-18 NOW, the UK's arts programme for the First World War centenary, This Is Not For You is an epic outdoor performance paying moving tribute to Britain's wounded war veterans, men and women whose contributions to history often go unnoticed. Directed by Jenny Sealey and performed by Blesma, The Limbless Veterans alongside local choirs.

News & Opinion

The latest in our 'In conversation with…' series of videos, in which presenter Mik Scarlet explores the importance of extending our work internationally, as part of the wider disability arts movement across the world.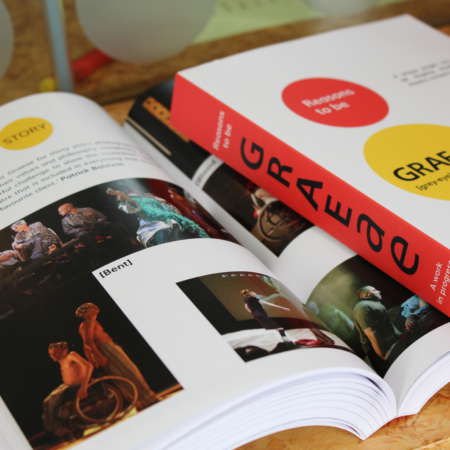 NOW AVAILABLE in paperback, audio format and text only, this brand new book offers a unique insight into the first 38 years of the world's first Deaf and disabled led theatre company.
Featuring reflections and insights from artists and theatre-makers including Nabil Shaban, Nicola Miles-Wildin, Jack Thorne, Maria Oshodi, Kathryn Hunter, Mat Fraser, Jemima Dury and Jenny Sealey. 
ORDER YOUR COPY NOW!
Mark Brown – Full company training week My name is Mark Brown and I'm a Blesma member having been injured in a road traffic accident whilst serving with the 1st Battalion Queens Lancashire Regiment. I joined the Army as a junior soldier and did my training at Queen Elizabeth Barracks Strensall, near York. Being a […]

READ MORE

A workshop in Soho It was snowy that afternoon. I remember it quite distinctly because my Primark bought leather man shoes had had me slipping and sliding through the streets of Central London. I simply couldn't miss the workshop with Inua Ellams, the writer of 'Barber Shop Chronicles'. Before I went in, I made my […]

READ MORE

Hello! We're Josh and Elspeth and we are part of Graeae's Ensemble training programme. We have just completed our ninth week and we can't believe that we are already over half way through. Although we have our own fantastic plans for the future, we just don't want it to end! Having the chance to […]

READ MORE