2021 update:
New applications paused
Since launching Beyond in July 2020, 46 Deaf and disabled artists have signed up to the programme. We are delighted that it's had this response, and that our theatre partners across the North, North East, West of England and the East Midlands have been able to help support a wide range of artists in developing their careers and creating new work. We'd like to thank all our partners, funders and artists who have contributed to making it such a success.
Due to the phenomenal demand for the programme, it has become necessary to pause new applications from 3 February 2021, but we will aim to  reopen the programme later in 2021. This is to  ensure that all artists on the programme are given access to fair and equal time and resources.
If you're a Deaf or disabled artist, and interested in support from Beyond in the future when we re-open applications, please complete the short form below, or click here to access it.
Thank you for your interest, and we will be in touch in the not too distant future.
Are you a Deaf or Disabled artist that wants to be part of the changing landscape of theatre in England?
Are you a passionate artist who wants to create live performance, develop an idea, find new collaborations, be seen & heard, but cannot get beyond barriers to developing or continuing your practice?
BEYOND is designed to transform the careers of Deaf and Disabled artists, supporting new connections to artistic development opportunities, advice, training, mentoring and creative spaces within a national network of theatres.
These are testing times for creatives everywhere, but in this changed cultural landscape BEYOND is looking to the future.
We are developing greater access to regional opportunities across England ensuring Deaf and Disabled artists are at the forefront of new and emerging work. We recognise the immense value of our intersectionality across our communities which includes Black, Asian, ethnic minority and LGBTQIA+ artists.
Delivered in collaboration with a thriving network of partner theatres in the North, North East, North West and East Midlands, BEYOND gives breathing space for artistic ambition and to discover creative potential.
We've teamed up with leading venues; Octagon Theatre in Bolton, Curve in Leicester, Nottingham Playhouse, Cast in Doncaster, Hull Truck Theatre, Shakespeare North in Prescot, Live Theatre and Northern Stage in Newcastle. Together we are creating a national network of artistic support and development for Deaf and Disabled artists.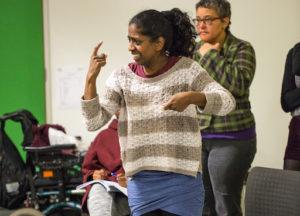 Graeae has been supporting and nurturing talent for 40 years. Our Artistic Director Jenny Sealey MBE says: "By offering space, advice and mentoring without charge, we are opening up the arts for Deaf and Disabled artists. Graeae feels a responsibility to do this – we are a trusted ally for disabled artists and we have the connections to take those careers further."
This programme is designed to support Deaf and Disabled artists who could most benefit from alliances with regional theatres in the North, North East, North West of England and the East Midlands.
Artists can benefit from BEYOND in one or more of the following ways. All access requirements will be met.
Creative space and support to explore theatrical ideas
Shadowing opportunities within R&D and rehearsal processes
A share in 600 hours of rehearsal space
A share in 100 hours of mentoring support
Support in sourcing funding and bursaries
Bespoke introductions to accessible opportunities near you
In addition to space, time and people, we will be offering a number of Micro Grants to unlock additional resources and help projects achieve their full potential. 
For more information contact:
Laura Guthrie, Artist Development Manager, laura@graeae.org
WATCH – BSL video on our BEYOND programme
WATCH – BSL video on How to Apply
Easy read version on our BEYOND programme
With thanks to our funders: Arts Council, Foyle Foundation, Sir James Reckitt Charity, Helen Jean Cope Charity, and Catherine Cookson Charitable Trust.
We welcome Expressions of Interest in any format accessible to you including written English, an audio recording, or video (BSL/SSE/spoken).