Disability Arts Online & Graeae present The Disability And…Podcast
Disability Arts Online, the leading publication for disability arts is joining forces with Graeae to deliver the Disability And…Podcast over the next 12 months.
The Disability And…Podcast promises to get right to the heart of some of the most pressing issues in arts, culture and beyond with a series of bold, provocative and insightful interviews with disabled artists, key industry figures and the odd legend.
17. Disability And…Dyslexia: Colin Hambrook & Benedict Phillips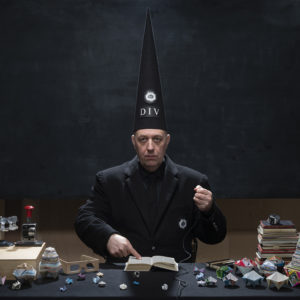 To celebrate dyslexia awareness week, Colin Hambrook, Editor of Disability Arts Online chats with Benedict Phillips artist and activist about his work, The Agender of the Agresiv Dislecksick, which recently had its 25th anniversary. Benedict will be giving a performance of the work, followed by a Q&A with Colin and artist and academic Aby Watson on Wednesday 7 October at 3pm.
Colin published Benedict's seminal manifesto as Editor of Disability Arts in London Magazine, back in 1995. The work marked the beginnings of Benedict's long career as an artist and also his first engagement with the Disability Arts community. The pair have remained in touch ever since and here they discuss a raft of Benedict's major artworks which he has produced over the years.
View all Transcripts HERE


Listen below or subscribe through one of the channels:

If you know of any other channels that you'd like this podcast to be available on, please email richard@graeae.org
You can also listen through our Transistor Channel, also embedded below.
The Disability And…Podcast will be edited by Ian Rattray for Clear Voice Enterprises, experts in accessible audio.
Transcripts of each podcast are available to download from this page.