Disability Arts Online & Graeae present The Disability And…Podcast
Disability Arts Online, the leading publication for disability arts is joining forces with Graeae to deliver the Disability And…Podcast. 
The Disability And…Podcast promises to get right to the heart of some of the most pressing issues in arts, culture and beyond with a series of bold, provocative and insightful interviews with disabled artists, key industry figures and the odd legend.
31. Disability And… Social Change with Kate Lovell and Robyn Bowyer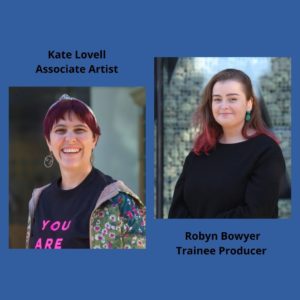 This month, Graeae's Associate Artist Kate Lovell chats with Graeae's trainee producer Robyn Bowyer about art and theatre and how it can inform social change.
View all Transcripts HERE


Listen below or subscribe through one of the channels:

If you know of any other channels that you'd like this podcast to be available on, please email richard@graeae.org
You can also listen through our Transistor Channel, also embedded below.
The Disability And…Podcast will be edited by Ian Rattray for Clear Voice Enterprises, experts in accessible audio.
Transcripts of each podcast are available to download from this page.