Transcript: Episode 23. Disability And... Ensemble: Jodi-Alissa Bickerton & Ensemble Graduates
Download
Disability Arts Online & Graeae present The Disability And…Podcast
Disability Arts Online, the leading publication for disability arts is joining forces with Graeae to deliver the Disability And…Podcast. 
The Disability And…Podcast promises to get right to the heart of some of the most pressing issues in arts, culture and beyond with a series of bold, provocative and insightful interviews with disabled artists, key industry figures and the odd legend.
23. Disability And… Ensemble: Jodi-Alissa Bickerton & Ensemble Graduates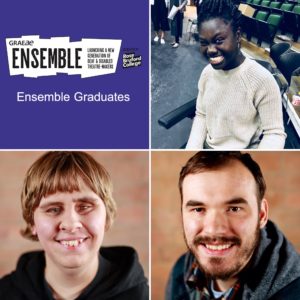 On this month's podcast Graeae's Creative Learning Director, Jodi-Alissa Bickerton, chats to Ensemble Graduates Awa Jagne (top right), Vanessa Smith (bottom left) and Josh King (bottom right) about their experience on Graeae's Ensemble theatre makers training programme which will be be running again this September 2021.
View all Transcripts HERE


Listen below or subscribe through one of the channels:

If you know of any other channels that you'd like this podcast to be available on, please email richard@graeae.org
You can also listen through our Transistor Channel, also embedded below.
The Disability And…Podcast will be edited by Ian Rattray for Clear Voice Enterprises, experts in accessible audio.
Transcripts of each podcast are available to download from this page.
Transcript: Episode 23. Disability And... Ensemble: Jodi-Alissa Bickerton & Ensemble Graduates
Download