Your Reasons to be Cheerful
Take a look at some of our friends Reasons to be Cheerful!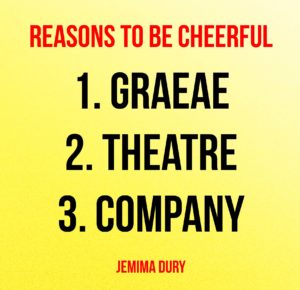 Sir Peter Blake – Love. Joe Jones – Liquorice, puffer fish and girls who are ticklish. Jason Flemyng – Actor – Waking up as a married man. Peter Hook – Joy Division / New Order – The smell of my kids hair.  John Turnbull – The Blockheads – Guitars. 6-string or 12 or even 4. Jenny Sealey MBE – Artistic Director – The fact that people are for the most part truly awesome and it is only the few that f**k it all up. Annie Nightingale – Radio DJ – I seem to be bale to look on the postitive side. I try to be a 'glass half full' person! Paul Sirett – Writer – Writing Plays. Anyone can write a play. About anything. I strongly recommend giving it a go. As a teenager, I worked stacking shelves in a supermarket – it became a play called Reasons to be Cheerful. Paul Rutherford – Frankie Goes to Hollywood – Not watching oil run into the gulf of Mexico. JJ Burnel – The Stranglers – To have met Ian Dury and been impressed by him. Dean Lennox Kelly – Actor – A well stocked fridge. Rowetta – Happy Days – Performing: As a singer I am lucky that I get to perform at some amazing places, to great audiences and with great musicians. Mark Bazeley – Actor – Just have to sing at the the top of your voice. Martin Roach – Author – One copy of The Times contains more information than a 17th century man would have seen in his lifetime. Brandon Block – DJ – There's always someone much worse off than you.  Jodi-Alissa Bickerton – Young people across the UK came out to vote, stamping their feet, demanding a shift in power and ultimately have changed the world. The Mighty Boosh – A mashed potato. Stephen Collins – Listening to Ian Dury's songs everyday. Jamie Beddard – My first day as an actor – being abused by a certain Mr Dury!! Mat Fraser – It's a beautiful morning in NYC, and I love it here. Derek Hussey – Freedom of speech. Viv Irish – Summer holidays, freedom and family. Olin – My friends and Xbox. Emma Thompson – Actress – Gin, Vodka and paracetamol. Charlotte McCabe – Travelling to new places. Richard Matthews– The awesome people I work with. Helen Jackson-Lyall – Dogs on trains. Charles Mills – Beethoven's Piano Concerto No. 1 in C Major (Rondo). Amy Bethan Evans – Having enough plush unicorns on my desk to share the magic. Kate Baiden – People coming together from all walks of life to make something beautiful. And fairylights. And biscuits. Cromwell – Playing my saxophone and French Bulldogs, they are just so cute! Jack Thorne – Sitting in a theatre beside someone I don't know watching something I don't know.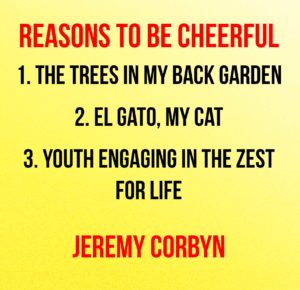 Chloe Todd Fordham – Laughing with strangers. Mette Philipsen – Freshly brewed coffee and a sunny Sunday morning (praise the lord). Alice Linnane – Shiny shoes and tequila. Robin Bray – Technology when it works! Angie Klein – Graeae's Reasons to be Cheerful is back out on the road Oi Oi! Ali Baskerville – Firemen. Davey Payne – The Blockheads – Sitting round a table for a meal with my eight children. Dame Harriet Walter DBE – Patron – Most people are fundamentally kind and peace-loving. Mik Scarlet – Actor – Ian Dury – the punk cripple hero of this punk cripple. Mani Mounfield – Stone Roses / Primal Scream – Playing with my cat Charlie pud. Mick Gallagher – The Blockheads – Sex and Drugs and Rock and Roll.