This Is Not For You Diary
Mark Brown – Full company training week
My name is Mark Brown and I'm a Blesma member having been injured in a road traffic accident whilst serving with the 1st Battalion Queens Lancashire Regiment.
I joined the Army as a junior soldier and did my training at Queen Elizabeth Barracks Strensall, near York. Being a Blesma member for more than thirty years, I've more recently been involved with many activities from the Blesma Community Programme (BCP) from cycling in Morocco to diving in the Red Sea.
This particular activity/acting is something that I have never done before and was invited to take part in. I have to admit to being a little reluctant at first. However, during our training and support from professional staff, I have become more confident and am beginning to enjoy the experience far more, pushing my own boundaries. This week has proved to be both demanding and rewarding with both teams coming together from Sheffield and London and developing skills learned over several months.
During this week's training we met key personnel, from script writers to directors and choreographers. Everybody put all they had in to two weeks rehearsals and it showed. The production is starting to come together as the story of This Is Not For You unfolds.
Moving and manipulating the cuboids (which will form part of the design of the production) in to different positions is beginning to flow, with everyone knowing their positions and responsibilities.
With help and support from our very experienced staff, we developed more understanding of body positions and body movement using the cuboids, whilst also discovering how to use facial expressions in certain situations.
These tasks are very demanding both physically and mentally and by the end of the day most of us realised just how much work was involved. I think it's fair to say we were extremely tired.
What impressed me most was that although it was physically demanding with serious moments, there was however a light-hearted side to the training with plenty of fun moments.
The interaction between the Blesma members is something that is constantly developing as we make our way through these training sessions. Our next training get together is going to be equally demanding as we will be together for three weeks. I'm confident that the team will pull together and come out with a fantastic production.
Kirk Bowett – Fifth week of training
Well the training is truly ramping up and the first intensive weekend has given performers from across the UK the opportunity to come together and collaborate. Members from Sheffield and London have joined forces and bonded well.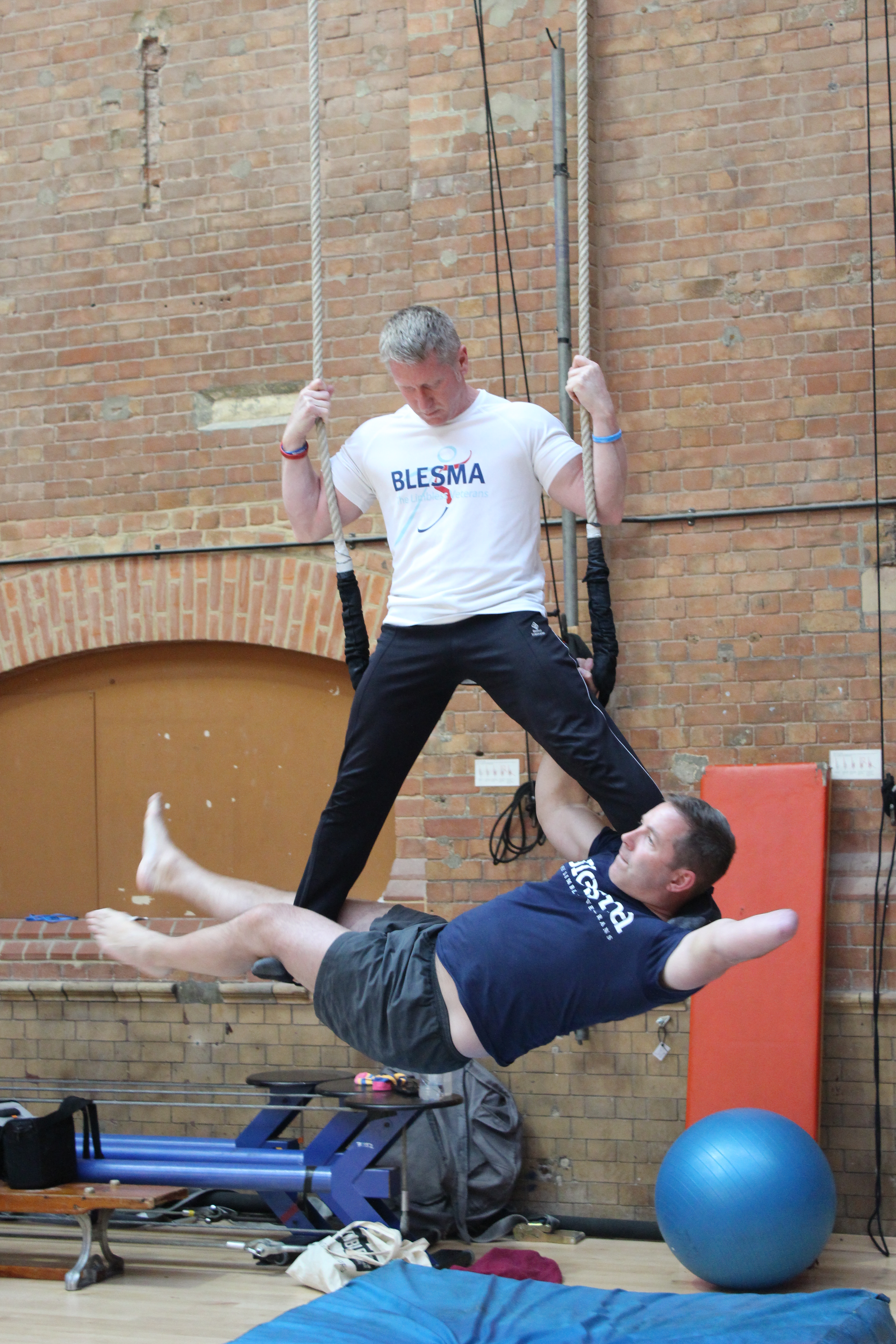 The training structure has been tough so far, before each session we endure a rigorous high intensity warm up. This warms us up for the training session and it is great to see all participants putting in their best efforts. The trainers have challenged us artistically and some adlib performing arts is thrown in to give us all confidence and shake off any shy or reserved natures.
In small groups and using some apparatus, we are encouraged to mount and dismount the trapeze and the cuboids in a graceful manner. Now we are beginning to polish our skills and muscle memory is enabling us to look more subtle and professional on the equipment. I am really looking forward to the intensive weeks. It's going to be serious business, diet, wellbeing and lifestyle will all be key factors in our ability and stamina going forwards to the performance.
We had the opportunity to watch the professionals at work when we visited The Roundhouse to see 'Pirates of the Carabina'. I personally had my eyes wide open at the spectacular physicality of the professional performers.
I am under no illusion that the show will be tough and I cannot wait to show off what we have and will achieve.
Stuart McLelland – Fourth week of training
Intensive training weekend
I joined the 17/21st Lancers driving Challenger tanks when I was 17.  All I'd known was the military – my Dad was in the RAF and I was looking for a job that would be exciting and take me places.  I served seven years in total, volunteered to fight with the Desert Rats in the first Gulf War in 1990/91, cycled with a group of seven of us from Munster to Istanbul over the course of a week and competed in the biathlon for my regiment.  It was a blast, and although I left physically uninjured, I mentally struggled with my fair share of PTSD.
Then, just when I thought life was going well – I had my own business as a sparky and a gorgeous wife and kid – I got hit head on by a biker who was overtaking a bus on a blind bend.  My beaut of a Ducati got trashed and I lost my right leg above the knee and most of the use of my right arm.  Game over.
Blesma have been a life saver since the accident.  Two weeks after I joined them they chucked me out a plane on a tandem skydive.  I've skied, gone horseback riding in Arizona and met some of the bravest blokes and lasses whose injuries make mine look like a paper cut and they can still joke and laugh about life.  There's nothing like military grit to get you through tough times, and every one of the veterans I've met has gone out their way to help and encourage each other.
When Blesma invited me to take part in a theatre production with Graeae I thought 'Why not?' and here I am, definitely sounds like it could be a great experience.  When I first got to the training intensive last weekend, I was dubious about what I could achieve.  I'd had a tough session the week before at Sheffield and was struggling to know how much I could do.  Learning to get on and off a trapeze and hoop with just the one arm and leg was incredibly difficult, even just getting from a seated to standing position.  All the instructors have been so patient with me and to be fair, I'd only had two training sessions so far!  So this weekend, being around so many amazing veterans with the instructors all working together has made all the difference and suddenly it has all started to come together.  Over the course of the two days I've learnt to get on and off different apparatus and I've achieved more than I expected.  I got the hang of five different poses on the hoop and I've got some awesome bruises to show for it.  I'm raring to get back to Sheffield with some inspiration so I can work with Jess, Debs and Emily to really start making some progress. I don't want to let them down when they're all putting so much had work into training us.
John Reeves – Third week of training
Hi my name is John. I left school at the age of 16 and went straight into the Army in September 1976, joining JPC (Junior Parachute Company) and left the 3rd Battalion, the Parachute Regiment in August 1987. I served two tours of Northern Ireland, fought in the Falklands war in 1982 and was with the UN (United Nations) in Cyprus in 1986.
I was injured on exercise at Longmoor in Hampshire in 1983 whilst setting up a booby trap. The detonator that we were using prematurely exploded and the aluminium casing penetrated my right eye, right hand and chest causing me to lose the sight in my right eye. I had seven operations over 2 years trying to restore my sight but to no avail. I still carried on serving with 3 Para still parachuting and in a rifle company until August 1987 when I left the services.
I have been a member of Blesma for over 15 years and have been lucky to have been involved in many challenging pursuits including cycling events such as mountain biking in the High Atlas Mountains in Morocco, scuba diving in Egypt, skydiving, skibobbing etc. When Blesma asked if I wanted to be involved in This Is Not For You, I leapt at the chance, another challenge and something completely out of my comfort zone. It was also a chance to give something back to Blesma and advertise such a fantastic ex forces charity that has helped and supported me greatly over the years.
I arrived to our third training session to the guys already doing their stretching exercises. We then did a round of circuit training to get our bodies warmed up to what turned out for me to be the best session so far. This time it was more structured, breaking down our movements into a logical sequence to get on the equipment more gracefully and with less effort. Better ways of getting to a standing position from sitting and different ways to get back down to sitting and holding different shapes depending on ability and disability for 15 seconds to a graceful dismount. I consider myself fairly fit but by the end of the day I was aching in parts that have never ached before, definitely a very good work out. I am very much looking forward to our next session, thank you Layla, Charlie and Michael our trainers at the NCCA.

Susi Rogers-Hartley – Second week of training

When I was asked to participate in this project, I really didn't know what to expect. I honestly had no images in my head to help visualise the meaning of 'aerialists'.
Was it tightrope? Zip wires? And how can I, being not only a wheelchair user, but with weak hands and wrist and overweight, be of any asset for the up and coming project? Am I going to be a huge let down?
Upon arrival at the NCCA (National Centre for Circus Arts), I was shown where we'd be training and the apparatus we'd be working on. I was in awe! Trapeze, flying hoops, silks… I couldn't wait to get up there!
After a brief introduction to the Blesma members taking part, we were set to a timed training circuit, triceps, dips, push-ups, balancing on wobble boards, working the arms, if the previous wasn't an option.
We had warm up strengthening sessions, dancing games. Personally, I was more thrilled about whizzing around in my wheelchair! A perpetual child at heart, eager to get on a floor with the maximum 'whizz factor' and this wooden floor had it!
After a short break, the equipment was lowered…. exciting!
I chose the hoop.
It was lowered to below my knee.
The crash mat momentarily moved to one side so I could get the chair closer.
My legs were threaded through the hoop, a little shuffle with the bum, chair removed and I was on board and lifted into the air! Oh my! I'm there! I'm really in the air sat inside a suspended hula hoop!
I felt graceful.
Allowing my arms to flow through the air, feeling the air, scooping the air. Making shapes with my hands. Making shapes with my upper body within the hoop and then stretched out across the hoop. I was dancing (as such) again!
I cannot wait for the next installment of this journey.
My grateful thanks to the wonderful people of Graeae and NCCA for making this possible.
Also the Blesma team mates. Despite what body part/s we are missing or cannot use, together we can overcome our obstacles and achieve something so awesome. Seriously, the lads looked quite at home up there in the trapeses!
Troy Conner
'I heard about Graeae back end of last year. I really fancied being a part of it, to give me a purpose, a goal and something to strive for in 2018. Potentially a new hobby and making new friends along the way.'
Listen to Blesma member Troy Conner tell us the challenges and what he is most looking forward to ahead of This Is Not For You.
Find the transcript of Troy's audio blog here
Carole King – First day of training

I arrived at Paddington Station to be greeted by snow. Not sure what to expect, I feel like a rabbit in the head lights. I do know one thing, I am truly out of my comfort zone not being at home. First of all my fears of falling, getting lost and confused start as soon as I get off the train. Also I stress and struggle with stairs and escalators on the London Underground. I could turn back but this is not an option, as I will be letting down the team and, most of all, myself.
In April 1983, I joined the Women's Royal Army Corp, where I served in the UK and B.A.O.R (British Army of the Rhine) as a Supply Specialist. Whilst serving I had a trampoline accident which led to many operations on my back and knee to bring me back to full military fitness. Alas this was not meant to be, so I was medically discharged in May 1990. I came to work for the NAFFI (The Navy, Army and Air Force Institutes) at 42 Coy RM in Devon, still having to have more operations to my leg. I left NAFFI service and came to live in Exmouth. In 2006, I chose elected surgery to have my left leg amputated from above the knee. This choice was not taken lightly, but was the best for quality and a healthier life.
Blesma helped me find suitable accommodation.  I have grown with Blesma in confidence and how I present myself as a mum, and carrying a disability. Through Blesma's Community Drive Project we learnt much more about ourselves and how to tell our stories. Now, I am with Graeae Theatre and taking the story to another level in aerial art. Wow, this is going to be amazing. Blesma put out the call for females, never one to give up on a challenge and here I am.
As I wait in the foyer, the Blesma members start to arrive and off we went to begin our session. We were introduced to the day by doing a quick warm up. We then split into twos and threes for our initial physical assessments.
We went through a series of exercises and although I do exercises at home, I was surprised to see how unfit I was. Some exercises I could do but need to gain more strength in my core to be stronger. The aerial part I struggled with as my hands were slipping on the rope part of the assessment, and I could not swing from standing. This is a new practice that I have never used before. My shoulder strength was very poor and I could not pull myself up onto the swing. Very disappointed that I could not do this task.
This was not at all what I thought, but found although very hard to do what was asked of me, I tried my best. But with the reassurance from Jez and the instructor, they said and felt that with more training I could master this. They will be doing a schedule for us all to do at home. Up to now I thought I did very well on my limb, and thought I should do the exercises with my limb off. I have however, taken the step to keep my prosthetic leg on, this will give me more confidence than being vulnerable to falls without it on.
Aerial performance is a completely new thing for me but as a trampolinist heights are okay. To be back in a troop of like-minded people, to grow and see where we started and to where we will end we will give me back the confidence that I have lacked over that last 2 years. I can't sit back anymore and what a way to say 'hey I'm back and raring to go.'
Billy Drinkwater
Have a listen to veteran, Billy Drinkwater as he tells us what he's learned during his first day of training at the National Cente of Circus Arts.
Performances:
Saturday 30 June & Sunday 1 July 3pm & 7:30pm (both days)
Greenwich+Docklands International Festival, London
Thursday 2 August 8.30pm
Friday 3 August 2.30pm & 7.30pm
Stockton International Festival, Stockton-on-Tees
Please check back soon for information on performance times and venues.