The Tempest – Swimming for Beginners
We've been working on an international project in collaboration with the British Council and Owlspot Theatre to stage a production of The Tempest: Swimming for Beginners which will be performed at Owlspot Theatre, Tokyo, Japan from 1 – 6 June 2021.
Directed by Jenny Sealey, The Tempest is a bold, modern reworking of Shakespeare's last play, reflecting on how Covid-19 has impacted the world. This will be performed by Deaf and disabled artists from Japan, Bangladesh and the UK.
The project launched in February 2019 as a key programme in the UK in JAPAN initiative, with a performance originally planned to take place in May 2020. Due to Covid-19, the date of the performance had to be postponed, but the artists from each participating country have continued to prepare and rehearse online throughout 2020/21, with Jenny Sealey directing remotely. The performance is a new form of international collaboration that overcomes the three barriers of disability, language and distance.
Our UK artists will be joining the performance via video.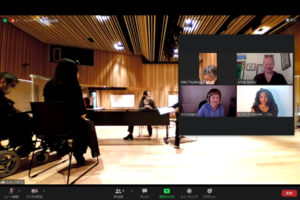 A message from Jenny Sealey
Cast:
UK cast (via video): Phillipa Cole, Fatima Neemoga, Jack Hunter, Jenny Sealey
Japan cast: Hiroe Ohashi, Sachika Segawa, Rio Sekiba, Hidetada Tashiro, Kazumi Hiratsuka, Kotaro Yanagi, Sakura Yoshidomi
Bangladesh cast: Mohammad Saddam Bepary, Morshed Mia
Check out their first blog, sharing the creation process of the show
Find out more about the cast, process and production here