Reasons to be Cheerful production diary
Week Eleven – The last week at Theatre Royal Stratford East
By Stephen Collins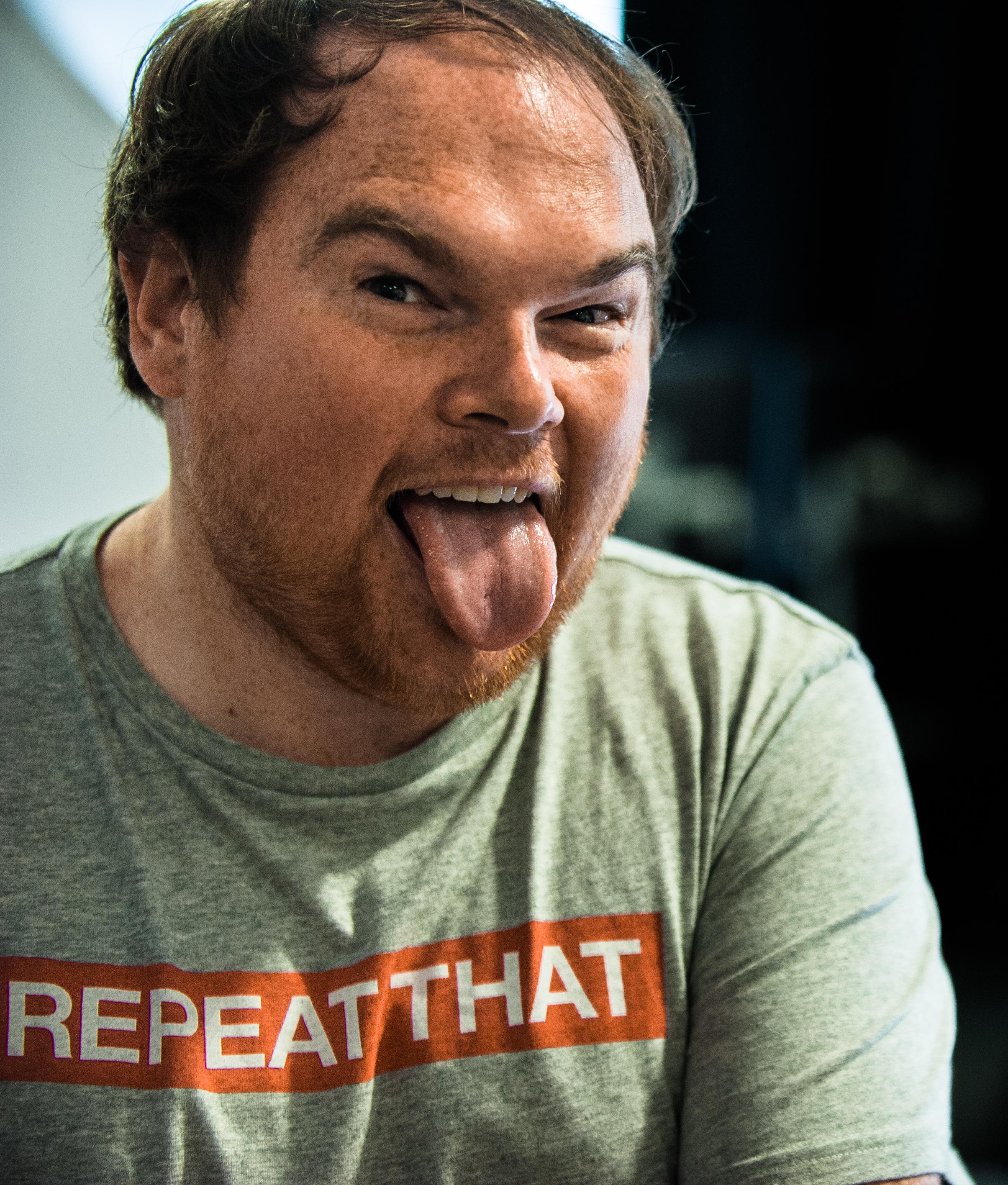 It's the last night of Reasons to be Cheerful. It's 11pm. The last show has finished 40 minutes ago. I'm sat alone in the dressing room with a small bottle of champagne from John Kelly (cheers you lovely man). The room is eerily so quiet after all that buzz on stage and the buzzing crowd downstairs in the bar. I took a moment to take it all in – We did it! We had it! What a tour this had been! The past 12 weeks came flashing back – the laughs, the joy, the tears, the challenges and the tough times. Wouldn't have it any other way. This has been worth it and more.
 I am honoured to be asked to write a blog about the last week, but I don't want it to be just about that, so I'm going to try keep it short and write more about something that I found very profound from this whole experience. Let's crack on to the final week at Theatre Royal Stratford East part 2.
 After two full days of well earned rest and no get out (much to the delight of Patricia, Hannan, Zoe, Chris & Stuart, part of the production team), it was time to don our gears back on ready for the final hurdle – our second week at Stratford. Seven shows left at Joan Littlewood's stomping ground. Such a gorgeous theatre to perform at. We got off with a flying start on Halloween night, when a group of university students in the upper circle erupted into 'Oooh Jeremy Corbyn' chant after the new song 'If it can't be right…' at the end. A very happy Jude and Paula joined in as we went off stage.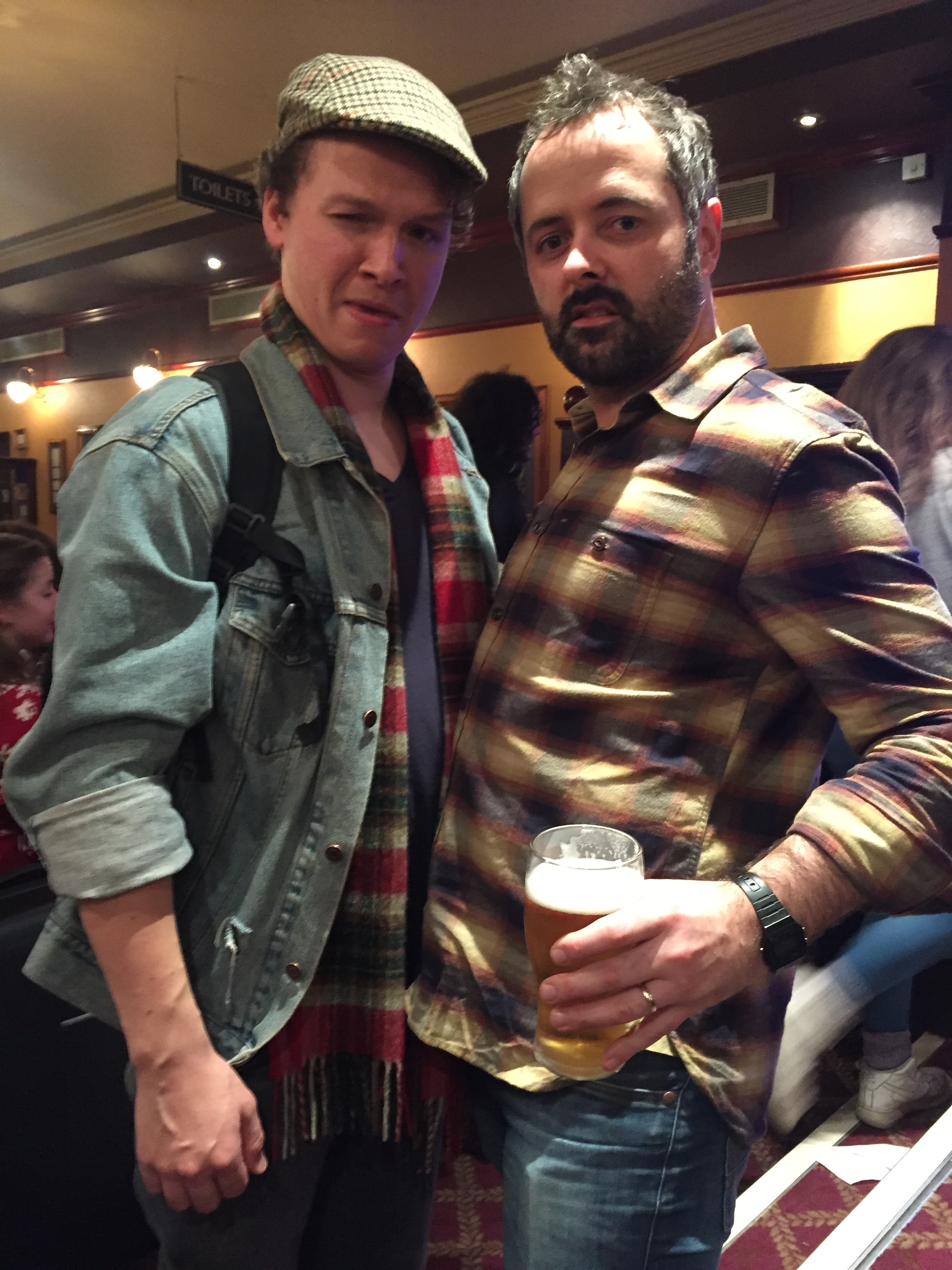 On Wednesday, we had not only one 'Dave' but two in the theatre – our very own Dan McGowan from the original production. An ultimate nightmare for Colin! We couldn't resist making a sneaky cheeky reference to Dan (See what I did there Joey) when Vinnie (Stephen Lloyd) says "Is Dave here?" Of course, we got a photo opportunity of Max and Dan together for your viewing pleasure …or not! The audience were phenomenal as they were for the rest of the week. We had a lovely post show discussions host by Graeae's Richard Matthews which was broadcasted live on Facebook. Also we had other 'Reasons' family in Robert Hyman (Uncle Harry) & Ali Potts (Stage Manager) in the week giving it large during 'Sex & Drugs & Rock & Roll'. Cheers for that.
Come Thursday, the legendary Blockheads bassist, Norman Watt-Roy, was in the house. (Photo by Angie Klein) It was 'First night nerve every one night stand' for o
ur Nixon, our laughing bassist, who smashed it. We had a drink with Norman at Wetherspoons afterwards as you do.
Then it was Friday & Sat-two-show-day (Yes I'm nicking that one off you Beth. Anarchy!) which came by so quick. It was packed, the audience were up for it and so were we. It was very emotional for us as the end was near. Yes there were tears and lot of sentimental bollocks. John was sick of it! BLOCKHEADS!!! There was some stifled giggles on stage when Joey as Sandra gave me a full handbag whack on the arm. Someone in the audience shouting "I will" when I said 'Wake Up and Make Love With Me." Ooooh! Then I stepped on Steve's sprained foot. I am expecting a hefty bill for everything I have broken/stained/ripped on stage. Well you did choose me to play an anarchist! Oi Oi!!
Some of us have caught Paul out (Guitarist and writer of 'Reasons') for lip syncing every line of the play. It must be a real delight to watch and play the music in a show that you wrote. Paul is one Clevor Trever and it's all thanks to him that we have this beautiful story. I thank the lucky stars for Jenny Sealey & Graeae who approached him 12 odd years ago to write something about Ian Dury and the rest is history.
There was a thief in our mist – poor Boxer the dog had his walnut whip stolen from his head (well just the whip) now cough it up – who was it?? (Looking at you Pickles!) We have evidence!! There are more I can say but I am going to stop there about this week.
Now I want to talk about REASONS TO BE CHEERFUL. I first got involved in this show back in June 2010 and have been with them since. This show holds a very special place in my heart and I'm sure it is the same for the others. I feel so proud of 'Reasons' and of Graeae – who have given us more than we could ever give them. This is the biggest thank you to Jenny Sealey and every single of you at the office (you know who you are) for making this happen and for making this a dream come true to play Colin – not just for me but for everyone involved. To the interpreters – Jude, Jeni & Caroline – you are Colin's glory. We are truly blessed for Ian and the Blockhead's music. Listen to them again and read the lyrics. It's pure genius. The story of this show and the message we tell is so relevant as ever. It's poignant but it's a celebration of who we are. We must keep fighting against the austerity that the government are imposing on us. People have to realise that they are slowly taking away disabled people's basic human rights and the right to be independent. There is so much anger and fear happening around the world at the moment, people are feeling demoralised and feeling lost. We have stopped listening to each other.
This is a reminder that this is okay as long as we love and support each other. Take the time to listen and understand. It's okay to be angry about something you are passionate about but with compassion and kindness. Most importantly – be who you are. This is something I have really taken into my heart on this tour.
Share your passion, tell your story, write it down, and sing it or whatever that makes you… YOU!
While we are setting up the stage ready to give it all we have every night, this is not complete without the collective spirit of the audience. I want to talk about the incredible audience who have made a profound impact on us as much as we have made on them. We keep hearing/seeing this word fly around so much – 'ENERGY' – 'How do you all get so much energy on stage?' Sometimes it's hard to explain it. At first, I was saying it's the incredible music and the incredible people I am working with but actually it is that AND you guys. It's the spirit that we give to each other and the energy just comes naturally. It's punk. I know this sounds sentimental but I want to personally thank every one of you for making this journey the most amazing & rewarding experience. Thank you for supporting us, thank you for sharing your funny and mischievous stories about the punk days and your experience with Ian Dury & The Blockheads, thank you for your wishes/gifts/drawings, thank you to those who created the protest songs and videos, thank you for travelling far and wide to see it, thank you for coming again (and those who came many times), thank you to families & friends, the reviewers and thank you for sharing it with us.
YOU'RE A BLOCKHEAD TOO!
Cheers to the venues – Belgrade Theatre, Derby Theatre, Nuffield Southampton Theatre, New Wolsey Theatre, West Yorkshire Playhouse, Liverpool Everyman & Theatre Royal Stratford East – for letting us take over and spread Anarchy.
 To Liz Ascroft, Nikki Charlesworth and the set designers – Thank you for the visual & delightful set and the amazing costumes. Punk at its finest!!
 To the Blockheads – Chaz & Derek – thank you for your incredible support and for the new song If It Can't Be Right Then It Must Be Wrong
 To Spicer, Stephen L, Jude, JK, Pickles, Beth, Paul, Nixon, Paula, Joey, Patricia, Zoe, Hannan, Max, Louis, Gerard, Haggie, Chris, Stuart, Barry, Dave, David, Joanne – You are all treasures! Thank you for the laughters, for taking whatever I have thrown at you, for being the A's in my circle and for sharing that stage with me. Now where is that Walnut Whip?
ANARCHY!!!!
Week Ten
By Gerard McDermott
The last two weeks of the Reasons tour have been interesting and challenging on two counts.
First of all, on the final night at Ipswich, Stephen Lloyd landed awkwardly after one of his super human leaps into the air, I'm convinced that actors develop super human powers the moment they step out onto the stage. We're able to sing higher notes, be funnier and in Stephen's case, leap like a lemur.
Secondly, both the West Yorkshire Playhouse and the Liverpool Everyman have 'thrust' stages. The former an amphitheatre, with a wide semicircular spread of an audience and the latter, the audience on three sides. These two issues were dealt with smoothly and both cast and audience really enjoyed the shows. The Everyman in particular felt wonderfully intimate, with audience members almost within arms reach.
Beth's (Janine) excitement on stage in Liverpool, her home city and with her family in the audience, was palpable. In every performance she creates so much energy, she could be wired up to the National Grid and power the whole of The North West.
Not all, but many of us are home now as we embark on the final two weeks of the run, at the Theatre Royal Stratford East. So, we say farewell to Theatre digs. A strange phenomenon. My experience of them has been largely positive in my years of touring, but it's worth asking actors about their experience. There are some very quirky landladies (usually ladies) and house rules out there in 'theatre digs' land and some very quirky, funny tales to be told. Another blog perhaps.
Being the old man of the company is becoming a more frequent experience for me. I have a good few years on our wonderful bass player Nixon, who is the tours expert now … on all things to do with parking! I've never driven a car due to my dodgy mince pies, so his advice, goes over my head a tad. So, as the oldest, I like to be tucked up in my 'digs' bedroom. ("Toilets through the kitchen. Help yourself the tea and toast") as early as possible.
It's always good to pop into the theatre bar to meet any audience members who've stuck around. Nice to get a bit of feedback. I was informed by one young chap in Ipswich who'd seen the play fifty times, that I was "fairly good". So, onwards and sideways.
Tuesday
Rehearse, sound check and tweaking of lighting today as we embark on our two week run at Theatre Royal Stratford East. Band call 12 30. Actors 1 o'clock.
An exciting prospect as this will feel like the natural homecoming for the musical. The Blockheads songs are woven with wonderful poetic lyrics set firmly in London. It will be spine tingling to perform on this stage for those reasons and more. This was the home of Joan Littlewoods Theatre Workshop from 1953, the year of my nativity. Many actors of the 1950s and 60s learnt their craft here, renovating the derelict building between rehearsals. Well worth a Google search. I was extremely fortunate to get to work with Joan Littlewood in a radio series in 1997. She still wore her trademark engine drivers cap.
It's 'guest night' tonight so, we'll all be in our best bib and tucker.
Wednesday
The Guest Night was electric.  The audience was full of Dury fans and our friends, family and business people. That's show business people I guess. They were so attentive and laughed in new places. And the applause was deafening.
So in the bar afterwards there's; artistic directors, casting directors reviewers and such. So, we actors try to 'network'. I've never met an actor yet who claims to know HOW to 'network'. So, we just smile a lot, try not to talk too much, try to look sober and hope whoever we've cornered liked, or even remembered our performance. I was chatting to a punter for twenty minutes after a play I was in a few years ago and after looking at me for a protracted pause and a rather quizzical look said, … "what is it that you actually do?"
Thursday 
Two shows today, so when to eat? That is the question.
I must say that the welcome we've received at Theatre Royal Stratford East has been the best ever. A card, a large bowl of fruit and a bouquet of flowers in every dressing room. Or is it just the one I share with Nixon and Paul? Perhaps it's in our contract along with the yellow M'n'Ms and pink fluffy slippers.
And on Tuesday, a buffet was laid out for us after our technical run. We're spoilt.
But what and when to eat on a day like today, a matinee day?  A late breakfast, an early lunch, a Boots Meal Deal, a microwave mess?  I seem to opt for the 'grazing throughout the day' option. So, I've brought a rucksack full of homemade pasta and soup, quite a strain on the households Tupperware selection.
Mid week matinees can be a strange beast and can invoke fear and apprehension in Actors. Audience packed in and responsive or sparsely spread and humourless? 'You can never predict, so you give it full wellie. There's a very old adage in the theatre, you never know who's out there'.
Friday
On tour, we've shared digs, meals, drunken nights, strong words and funny anecdotes.
I've realised that we can only truly relax at home. There's nothing like your own bed, getting the TLC from loved ones and having the use of your own bathroom. Mind you, I am getting old, perhaps there's the rub of it. But what an exciting way for an old man to spend his life, acting and singing rock and roll songs to wild applause. I won't say how old I am, but I celebrated my 50th three years ago, ten years too late.
A limerick for the cast/crew and band.
Young and fit Stephen Lloyd
A talent so hard to avoid
Just take a 'butchers'
Cause even on crutches
He'll never be unemployed
Actress Beth Hinton-Lever
On stage, she's never a Diva
She moves with such grace
With a smile on her face
And on script, you just gotta believe 'er
MD and thesp Joey Hickman
On keys he is real slick man
He lays down cool groves
And with womanly moves
Watch and wonder, cause he's sick man.
On multi-talented Max
It's easy to lyrically wax
On script and guitar
This man will go far
Contact Spotlight Twitter or fax.
Stephen Collins was born to play Col
As he dances with Harold the doll
His timing's just right
On the nail every night
In text speak he makes us all LOL
She's the original Spice
I've worked with her once or twice
She adds such hot flavour
With naughty behaviour
And her kiss on the lips is quite nice
He's peddled his career our Pickles
On stage, TV and Bi-cycles
From paper boy
To show biz employ
The funny bones he tickles
There is a fine actress called Jude
Some think her dancing's quite rude
But I say exotic
Cool and hypnotic
But certainly not for the prude.
Rockin Paddy John Kelly
Star of stage, pub and the telly
Of Irish extraction
The main attraction
By god he gives it some welly
Multi-talented Paul
Plays acoustic, steel and Les-Paul
A man for all seasons
He plays throughout 'Reasons'
He's written the play an' all.
On the fingers of bassist Nixon
Women's eyes are forever fixed on
They think their fish nets
Are the neck and the frets
Where later he'll play some fine licks on
Paula Stanbridge-Faircloth
To the mod the punk and the goth
With her rhythm sticks
She is their 'fix'
She is the light to their moth
Louis plays a fine sax
And with volume turned up to the max
As the evening unfurls
He charms all the girls
There's nothing this charming man lacks.
To write one for Gerard
I find exceedingly hard
What rhymes for him
The options are grim
Answers on a postcard
Company Manager Patricia
Has a voice fit for militia
Her call from the wings
Can start shaking things
And in Stratford has caused a deep fissure
With SM Hannah Finnegan
We're in love each woman and man
Her voice is so pure
And with her we'd tour
From Milan to Yucatan
On slides is Zoe Cotton
She notes the lines we've forgotten
Most of the cast
Have learnt it at last.
But with me she's got a LOT on
The sound wit and wisdom from Stu
I'll admit has baffled a few
Only one or two get him
Fools try to forget him
Whilst others haven't a clue.
He mixes it up Chris Murray,
Improving us much? Yes, very.
Filtering out burps
And on stage slurps
And the farts from last nights curry.
Reasons to be Cheerful
Touring until 4 November 2017. 
Click here for tour dates and booking information.
Week Nine – 'I love Liverpool'
By Beth Hinton-Lever
I feel like I should start this blog by stating my bias: I LOVE LIVERPOOL. SO. SO. MUCH. (I also grew up here and live here full time when I'm not on tour. So. There we go).
On Monday, Joey (our wonderful MD and the beautiful Sandra) and I went to go and talk to Paul Beesley at BBC Merseyside about all things Reasons and Graeae. Paul played If It Can't Be Right Then It Must Be Wrong after we'd had a lovely chat with him, and I'm happy to report that I didn't swear. Mission accomplished.
While Joey and I were being interviewed, our incredible crew were in fit up all day setting up The Red Lion ready for us to rock The Everyman.
You can nearly see the fear in my eyes that I may have sworn on live BBC Radio… Joey did mention they once banned Spasticus Autisticus though… ANARCHY!!
Tuesday was a day of reunions! Our fearless leader Jenny Sealey was back with us, as well as our very own polymath Paul Sirett. However, James Haggie (Paul's replacement for the week) was still on stage with us in spirit… and headshot.
We miss you, Haggie!
Our first audience in Liverpool, much like the five audiences that followed, were absolutely PHENOMENAL. My sense of pride for this city and the people went through the roof this week.
On Wednesday, we had a 5:30 show and so went for a company meal at the Bistro in the theatre after the show, which was so lovely.
That night, on our way to our favourite haunt of this week, the speakeasy Berry & Rye. Max and I met a lovely lad, and as you can see we were all pretty excited about it (Louis has become my unofficial photographer for Wednesday… thanks, Louis!!).
Thursday rolled round and we had Reasons royalty in: the phenomenal and gorgeous Garry Robson (former cast member) and our sensational choreographer Mark Smith! Luckily, they both enjoyed all the changes that #Reasons17 has undergone since 2012… and that fateful Saturday night in Ipswich when we lost the use of Vinnie's right foot (I am going to apologise publicly here for standing on your foot in the matinee. I suck). We got to meet the incredibly talented company of Fittings Multimedia Arts' The Unlimited House of Krip. They are incredible. Google them. Follow them. Go and see them. (You can thank me later).
Oh, Friday… I was dreading Friday. Friday is the show that my family came to see me- including my Grandmother (Grambo for short), a very protective uncle, and my twin brother. I was terrified. My fear was totally unfounded, however, as they all loved the show! Friday night was also the show where we had two guide dogs in the audience. I cannot tell you the joy I felt when I noticed a Golden Retrievers adorable face in the stalls. Last but not least, Friday was also Nixon's birthday!! (Our bass guitarist)
HAPPY BIRTHDAY, NIX!! We love you so dearly!
Sat-two-show-day (what I'm going to call all Saturdays from this point on) was amazing. I am actually finding it quite hard to articulate just how much performing Reasons in my hometown, in a fantastic and beautiful theatre, with such generous and warm audiences means to me.
Anyway, enough of Liverpool (for now)…LONDON WE'RE COMING FOR YOU!! OI OI!
Love Beth xxx
Reasons to be Cheerful
Touring until 4 November 2017. 
Click here for tour dates and booking information.
Week eight – A week in Leeds
By Paula Stanbridge-Faircloth
It is the wrong side of 3am on Sunday morning after our last show in Leeds. I am in the casino and have just lost £200 on the roulette wheel. £200 of someone else's money. And as I've just met him, I can't quite remember his name. How did this happen?
Let's go back in time to Saturday night, the last show at the West Yorkshire Playhouse, (cue jingly time travel synth, twinkly cymbals and wavy arm dancing).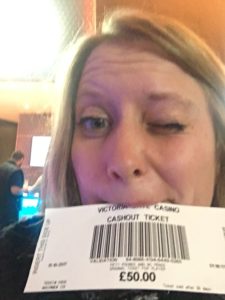 The audience have been amazing. By the time the encore rolls around I feel I have travelled back to 1979. I am Charley Charles drumming with Ian Dury and the Blockheads at the Hammersmith Apollo. No, I'm not deploying the Stanislavski method, the audience is making me feel this way. The lights go down. All you can see is the small light from the sound desk amongst the seats. The audience is up; stamping their feet and cheering. The audience is going crazy. Here comes John Kelly, with flat cap and neckerchief. He's  saying "I wanna hear you sing with me… give me some sex… and drugs… and.. rock and roll." He has them in the palm of his hand, echoing 'hit me­­­' and grinding their hips along with Janine. The experience is so exhilarating that you need a drink or 10 to calm the f**k down afterwards. And err that's how I ended up at the casino, the wrong side of 3am gambling away someone else's money. (Thank you, as it turns out Paul, for an enjoyable evening, and JK for knowing such generous people.)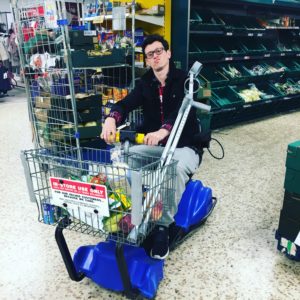 Theatrical challenge of the week:  Having to reblock the show in Ipswich because Stephen Lloyd (Vinnie) took a huge jump during the encores and landed on his ankle. He has a very bad sprain and is now on crutches. New improved Vinnie needs a little assistance with his props and we have to be extremely creative with the choreography all over again.
Fave audience story from Leeds: Shout out to the lad in the Blockheads t-shirt and the motorised wheelchair who told John he saw us perform Spasticus Autisticus at the Paralympics, knew nothing about Graeae, read up online and loved the music and desperately wanted to see the show. He had been sporadically Googling Reasons to be Cheerful for the past five years on the off chance that we did another tour. 2017 was your year! Here's to hope, persistence and decent broadband speed.
Whoops moment of the week: One of the set signs, falling off the monitor and sticking itself to the floor – and watching all the cast try to pick it up to no avail, during the show, so no one slipped on it. It was like that schoolboy prank where you glue a £1 coin to the floor and watch everyone with glee as they struggle to pry it free.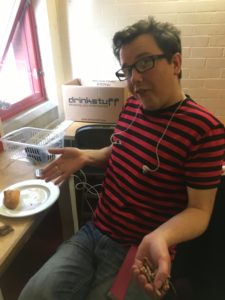 Company mention of the week: Goes to James Haggie who stepped in for Paul on guitar this week as he was working on launching his new play Oxy and The Morons at the New Wolsey, Ipswich. Haggie was not only a pro, who learnt everything with no extra band calls this week, he also ate a lot of the Twiglets we use on stage, much to the chagrin of Patricia our CSM who now has to buy some more – a feat in itself, as it's a universally acknowledged fact that Twiglets are nasty. Good job chap!
Have a look at Paula's own blog here
Reasons to be Cheerful
Touring until 4 November 2017. 
Click here for tour dates and booking information.
Week Seven – Returning home to the New Wolsey Ipswich
By Paul Sirett
Ipswich. The New Wolsey is a special place for those of us who have been part of the Reasons to be Cheerful gang since the first performance of our show in 2010. The first performance of any new show is nerve-wracking but that night was more nerve-wracking than ever for me – not only was it a show I had written, it was a show I was performing in (I play in the band). No matter how hard you work, not matter how much experience you have, not matter how hard you try, you never know if a show works or not until you put it in front of an audience. That night remains etched in my mind because as I lifted my head to look out at the audience after playing the last chord of the last song, wondering if I was about to be pelted by rotten tomatoes, I saw the audience up on its feet applauding and cheering. Phew!
As we stood backstage, waiting for clearance to begin the show last Tuesday, Jude (who plays Debbie – who did the dancing, sorry, choreography) turned to me and said, "It's like coming home doing the show in Ipswich again." So true. And, just like in 2010, and 2012, the audience was up on its feet again. It's always nice to come home.
I have another memory from seven years ago that came flooding back to me as we began our first performance in Ipswich. On our first night in 2010, I will always remember looking out into the audience and seeing a family sitting together in the front row. One of the members of that family was a young boy – 10 or 11 years old. Now, those of you who know the show will know that it has some pretty strong adult content – I thought there was very little chance of the family coming back for Act 2. But not only did they come back for Act 2, they have been coming back for the last seven years and on Tuesday night there they were again. I think they must have seen the show over twenty times now. All hail the Jackson family! Gratitude to them and all our friends (like Paul Monkhouse and his son Sam) who come back time and time again to see the show. Thank you!
There are several wonderful things about playing in the band for this show – I get to play great songs, I get to play with great musicians, and I get to watch the audience reactions. It's much better than being a writer and sitting in the audience. The only thing I need to watch out for is that I don't mouth all the actors' lines as they speak them – on our first tour I was awarded a prize by the production team for lip-syncing the entire script every night – I still find it hard not to do it.
Perhaps the biggest event of the week off-stage was the birthday of our legendary front man and vocalist, Sir John Kelly. Sir John is a superstar and Reasons would not be Reasons without him. Happy Birthday, Sir John – we salute you!
One of the great things about Reasons is that the style of the show means that when things go wrong, we don't have to pretend it hasn't happened. During the encore on Saturday night, brilliant Stephen Lloyd (Vinnie), was doing his usual high-energy jumping here, there and everywhere, when he twisted his ankle. He's got a bad sprain and he's now on crutches. But this being Reasons, we'll just carry on and integrate Stephen's injury into the show. There can't be many shows where you could do that! Oi Oi! Get well soon, Stephen!
Reasons to be Cheerful
Touring until 4 November 2017. 
Click here for tour dates and booking information.
Week Six – A week in Southampton
By Karen Spicer
Day 1
I wake up and make coffee for me, then set out from my digs to the bus Stop.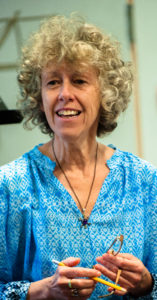 It's a perfect english autumn day. The Sun is shining, the Sky is blue, and the bus is blue. I turn the corner and there is JK and Vinnie on a poster on a telephone box. I check that Pickles is not inside talking to Derek or robbing the coin box, I shout OI Oi and run for the bus…ANARCHY!
At the Theatre our gorgeous crew have been working nonstop. The set is ready, our genius Director Jen is with us and the lovely Nuffield Theatre Team treat us to our first meet and greet of the tour…Reasons To Be Cheerful 123….but no wait…there's more! The lovely Helen arrives with Reasons t-shirts from the lovely Kate! Christmas has come early…I need a Bacardi and Coke, a Walnut Whip, and some Thunderbird Wine.
Then before we know it …Reasons To Be Cheerful, we will definitely start with Reasons To Be Cheerful. The Lights change on the stage, Joey counts us in, the audience recognise the chant from the start of the song, and here he comes, JK..mic at the ready, rolling forward, Scarves, t-Shirt, chains. The Band kick in, and Vinnie, Colin, Janine, Pickles, Debbie, swing into action, Pat downs a Bacardi, Bill is on Percussion,and so Southampton it begins.  A fab first night a lovely audience, a lift home from our beauty Jude and zzzzzzz.
Day 2
I find a Bacardi glass in my digs. I was clearly meant to be here! Our Steve Collins does a brilliant show tonight, despite feeling unwell. He really is Reasons Glory.
Day 3
Our Steve is much better and he and I manage to go out on our weekly, veggie, vegan, signing  lunch date. We eat fab food, I attempt to sign and Steve practices having the patience of a saint. Another great audience enjoys another night of Sex and Drugs and Rock and Roll and the students of Southampton in their fresher's week continue to drink up, drink up, drink up, in town, then fall over!
Day 4
We end another good night at The Nuffield Me and Jude go back to my digs, drink Tea and Wine and at last recline and sleep the blissful sleep of being in comfort and safety.
Day 5
Our last day. Two Shows and the 40th Anniversary of New Boots and Panties. Derek from The Blockheads turns up to cheer us on in the matinee, and the last night is packed. We end our Southampton run with the audience up dancing singing and cheering.
Thank You Southampton. We have had …….GOOD TIMES……Cheers.
Reasons to be Cheerful
Touring until 4 November 2017. 
Click here for tour dates and booking information. 
Week Five – A week in Derby
By Wayne 'Pickles' Norman 
Oi Oi!!
"Good evening, I'm from Essex in case you couldn't tell, my given name is Pickles and I'm doing very well." That is the start to the audio description of the show while I'm fumbling getting old 10 pence pieces into the slot of the original payphone I use onstage. It is specially wired up for any blind, visually impaired people or anybody really, using the headsets.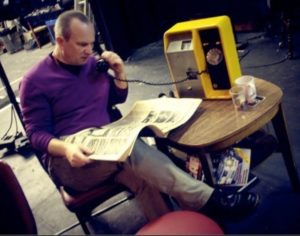 I'm still so proud and privileged to be part of this remarkable show, it's just fantastic to be doing it again since we last did it five years ago. Apart from touring the world in that time with the gig version, obviously. We're a bloody great tribute band!
We have just finished our second week of the tour in Derby, and what a week it was.
I arrived on Monday night to my lovely digs (it makes such a difference having a good base for the week), to find the nice surprise that Karen Spicer (Pat in the show) was staying in the same house. So on Tuesday morning, Spicer and I headed into town on the bus, via a greasy café to start the tech day and first show that evening. It went really well, the audience were great and the reactions got even better each night. A cracking show on Wednesday too, press night. All the Graeae posse turned up en masse with loads of 'RTBC' related badges. To celebrate we all went for a few cheeky shandys after, some of us ended up in the casino for a late night flutter!
For me this week has been all about tweaking the audio description for the show now we are up and running. Unlike the rest of the cast who have to stick to the script word for word, because it's up on the screen behind them (no hiding), I have never done the same show twice. The more we do the show, I get to know it again really well. Then I can add a little bit more detail into gaps or ask the actors to give me an extra second or two to fit stuff in. Those seconds are important. I have a template now of my script which I can adjust or improvise on each show. My AD is character based, I'm one of the locals in the pub who has the odd opinion or two! But I love being able to get up to dance and sing some of those iconic songs I grew up with. I was lucky enough to meet Ian Dury a couple times and saw him perform with the Blockheads too.
We had a phantom scribbler one night who secretly graffitied our dressing room doors!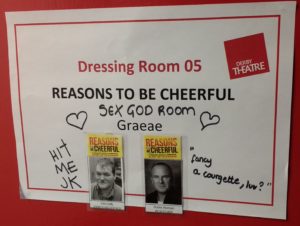 The last night in Derby was amazing, the audience were right up for it from the start. Wonderful responses to each of the songs, singing along at times. When Pat makes a toast at the end to 'Good times' they all shouted back and applauded (that started me off), really emotional. Then the encore was something else, the whole audience were up singing, signing and dancing. But the reaction to the new song (written by our very own John Kelly, Chaz and Derek of the Blockheads) at the end was brilliant. Applauding lines in the song about saving the NHS and stopping cuts. Some of the audience were in the bar after and cheered and applauded each of the cast and band as they individually came in. I forgot how much people absolutely love this show.
It was the perfect finish to our time in Derby before a week off for us all to recharge and 'give it large' for the rest of the tour. Southampton here we come, you lucky people!
Week Four – A week in Coventry
By Max Runham
Oi Oi!!
Max Runham here from the cast of Reasons to be Cheerful.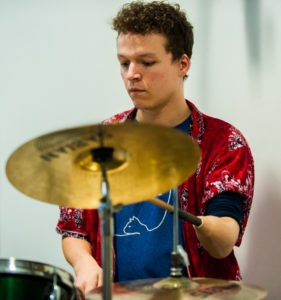 We just got to the end of our first production week in Coventry and we had an absolute blast. So why not tell you a little bit about it.
Our week started off with a day-off on Monday. But who wants to hear about that?
Tuesday came along and we were called in to Theatre Royal Stratford East for the morning for a session led by the lovely Daryl Beeton (Associate Director) on the stage of the theatre. We basically spent the morning going through the whole show and tightening up all the final details. However, why start working on detail until you do a full run of the show in 3 minutes? Nothing like putting no detail whatsoever into what you're doing to inspire you to work on detail. We actually took about 4 and a half minutes. We just cared too damn much about the story to leave bits out. Let's just say that.
We had a smashing day and a pretty damn productive day. Feels like exactly what we needed just before heading up to Coventry later that day. Most of the cast went straight from Stratford to Euston and got the train up. I headed back home and packed my stuff up into the car and drove mah wee Corsa up north.ng look from the landlord. Then went to meet up with my room mates. Joey and Louis. The certified cheeky chappies of the company who were indulging in a rather lavish meal at Cafe Rouge. I might have joined them for a lil glass of red (or two). Then we headed back to our digs where, for the first night.
Then we were up bright and early for a 9am start at the theatre. I nabbed myself a rather tasty toastie and a coffee from Conroys just around the corner from the theatre and we headed in.
The day got off to a slightly slow start, as a lot of techs tend to, as we all tried to figure out the best way to start the show. It was important that we got this right as it sets the scene and the vibe for the way the show works. Once this was sorted, we hit the ground running. And Jenny Sealey, Jeni Draper and Judith Kilvington hit the ground wigging!
So other than a few heads being hit on the low hanging set pieces, a couple of glasses of "beer" being knocked all over floor and a pretty intense face off between Mr John Kelly and Harold (our resident statue), the first day of tech went rather swimmingly.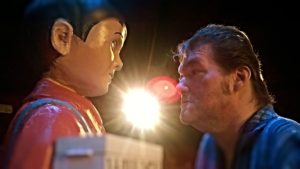 After a little visit to the Town Wall Tavern the previous evening and maybe a cheeky visit to eat a naan bread full of nachos, chips and cheese sauce.. We were ready for day 2!
All went, once again, very well. We planned to finish the tech in time to do a dress rehearsal that evening but we ended up finishing our tech at about 8 o'clock, so we decided to use the last two hours to brush up some of the things we'd be putting on the back burner. This gave Joey a lot of time to tighten up a lot of the harmony parts in the show.
Onto day 3, we were called in at 11am with another vocal from Joey to get us into ship shape for the dress run in the afternoon. Needless to say, there was excitement buzzing around from everybody who was raring to see how these last few weeks would pull into a finished product. Bar a couple of very minor hiccups, the dress run went very well and we had some lovely feedback from a few people who came to see it. And after a few changes to costume, with a brand new funky 70's look and a trouser toad for me…
We felt ready. So Louis celebrated the occasion by putting a paper cup on my head. I was, as you can see from my face, instantly filled with an eager spirit.
It came to our opening preview and we were all eager to get out there and give it everything we had. We knew that show needed an audience to really come alive so we were all intrigued to see how it would affect the show and how it would come across. Daryl was particularly excited…
I think, for the members of the cast who had done it before, they were pleasantly affirmed.. And for the new members, myself included, we were incredibly, pleasantly surprised. The show absolutely came alive. The audience were fantastic and gave us everything we needed to get the story across and make the songs breathe. The feeling after the show was wonderful. Everyone was on an amazing high, if maybe a little tired from a long week. We knew we had one more long day ahead, so we stayed out to celebrate for a little while then headed back for a good night's rest before heading back in for notes in the morning. Unfortunately a pretty gloomy morning.. Luckily the gloom had a double rainbow in it.
LET'S BLOOMIN' 'AVE IT, SAUSAGES!
Over n out!
Max