Postcards & Prints from Reframing the Myth
Order beautiful postcard books or A3/A1 prints of the work inspired by the artists we work with at Graeae Theatre Company, created by 39 world-class illustrators. The work was created for our 2016 exhibition Reframing the Myth, in collaboration with the Central Illustration Agency.
View a preview of the artwork below.
Special LoveTheatreDay prices:
Postcard book: £13.99 (+ postage and packaging), beautifully packaged in box, with catalogue giving context to each piece
A3 prints: £18.99 per print  (+ postage and packaging) – discounts available for 3 or more posters

A1 prints: £24.99 per print (+ postage and packaging) – discounts available for 3 or more posters 
Scroll through all works in the postcard catalogue by pressing on the > arrows:
Postcard boxes: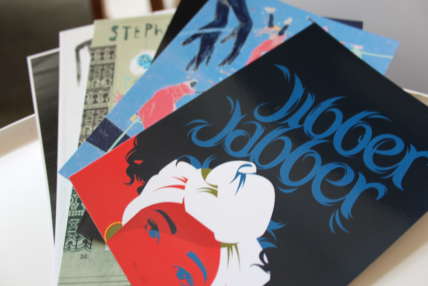 Posters (available as A2 or A3). A3 pictured below: