This autumn we explored musical theatre with a group of brilliant students from Queensmill School. Every Wednesday morning the students welcomed our team with commitment, energy and with their 'professional hat on' ready to warm up and rehearse. The students worked together to develop their own scenes and characters, their own music and lyrics as well as sign names.
Paper Plum Studio is the students company name, led and designed by them. With the final script they wrote, they performed their work on 15 December 2021 to fellow students at Fulham Cross Academy.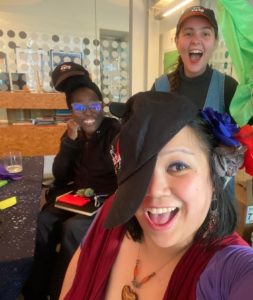 This residency was directed by Miss Jacqui, Laura Dajao and Sarah Warren who together brought an edgy and creative approach to musical theatre with a spin of individuality and fun.