To mark the beginning of Disability History Month, we released THREE of our recent stage productions available to watch online from 16 – 30 November. Audiences could stream the online premiere of our groundbreaking, UK Theatre Award winning chamber opera, The Paradis Files alongside Olivier award nominated 10 Nights and Michael Southan's Kerbs.
Take a look at the productions below.
A bit about Disability History Month

Starting on the 16 November last year, Disability History Month is a chance to celebrate the lives of disabled people and in our case all the artists we have worked with. It's a platform to focus on the struggle for equality and human rights still faced today by Deaf, disabled and neurodivergent people. This month we want to share with you some of the work produced by disabled artists starting with our film festival.
Graeae Artistic Director Jenny Sealey says:
Here are three hugely different Graeae productions. We have had the opportunity to work with a glorious diversity of partners, new and familiar directors, writers, designers, composers and of course performers! The films are a testimony of the collaborative and learning spirit of Graeae and I am, as always so proud to be part of this company. Enjoy!
Watch the trailer!
_________________________________________________________
The Paradis Files

Music – Errollyn Wallen 
Musical Director and Conductor — Andrea Brown
Director — Jenny Sealey
Librettist — Nicola Werenowska
Co-Librettist and Original Idea — Selina Mills
Commissioned by The Stables for IF: Milton Keynes International Festival. A Graeae Theatre Company production in partnership with BBC Concert Orchestra and Curve Theatre
An extraordinary blind musician. A family hell-bent on a cure.
In the glittering salons of 18th-century Vienna, Maria-Theresia von Paradis is a star. Pianist, composer, touring musician; this pupil of Salieri and friend (and alleged lover) of Mozart has captivated Europe with her own sensational talent. They call her The Blind Enchantress.
The Paradis Files is BSL interpreted, audio described and captioned.
Content/trigger warnings: The Paradis Files contains references to some distressing topics, including: Physical violence, Sexual abuse, Baby loss, Bereavement, Ableism and graphic depictions of 18th century 'cures' for blindness, including compression of the optic nerve, bleeding with pins and electric shock.
4 STARS – THE INDEPENDENT
"A joyfully inclusive show makes you rethink who opera is for."
Find out more about the production here.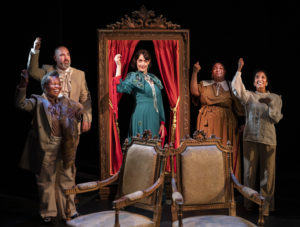 _________________________________________________________
Kerbs

By Michael Southan
Directed by Nickie Miles
A Graeae and Belgrade Theatre co-production for Coventry City of Culture
Lucy and David are dating. Or at least, they're trying to. Faced with first-date disasters, a few crossed wires and Lucy's mum, what they really need is a bit of space, a bit of fun – and ideally some independence. Escaping for the weekend to a caravan park in Somerset, it's time for them to find out if their spark will finally catch, or burn everything to the ground.
Kerbs is audio described and captioned.
Contains strong language and scenes of a sexual nature.
4 stars – NORTH WEST END
"A hilarious and touching play which explores the messy world of online dating, sex, disability and care in today's world."
Find out more about the production here.
—> Take a look at our Beautiful Education Pack full of information on Kerbs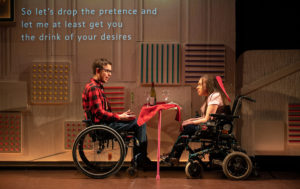 _________________________________________________________
10 Nights