Interview: Director of KERBS, Nickie Miles-Wildin
Director Nickie Miles-Wildin talks about her upcoming show Kerbs by Michael Southan.
Can you start by telling us a bit about the narrative of the play? Who is Kerbs about and what happens in it? 
Kerbs follows Lucy and David as they embark on a dating app. Their first date doesn't quite go according to plan and there's a trip to A&E. They have to navigate many obstacles to enable them to fulfil their goal of having great sex together. This includes a train journey, Minehead and Laser Quest.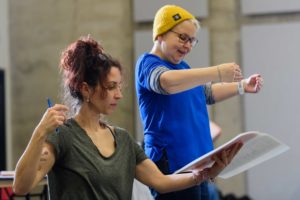 What themes are explored through the play? 
The themes explored are disability, sex, over protective parent, navigating a non disabled world and using an accessible toilet for pleasure.
Are there parts of your own life that you recognise in the play?
Navigating dating apps, navigating the world as a disabled woman and how I am seen by the world. That travel etc cannot be as spontaneous as we would like it to be.
Can you tell us a bit about you now? Did you always want to work in theatre? Was this your intended career path? 
Growing up I loved performing but never thought I'd have a career in the arts. I was going to be an educational psychologist but then I studied A-level Theatre Studies, and in the final year I changed my UCAS applications to study drama. Theatre has always had my heart.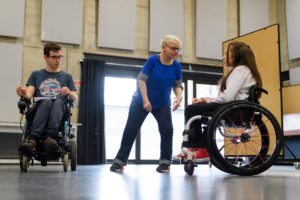 How did you go about beginning and maintaining a career in the arts? 
After University I worked as a stage manager at The Nuffield Theatre in Southampton for 2.5 years, from Theatre In Education shows in schools to a national arts centre tour. From being on the road to also being Deputy Stage Manager for the main house theatre shows. I then moved into acting as this was my first love. That's how I became involved with Graeae, after auditioning for them whilst still at uni. (Jenny, Graeae AD, had seen my one woman show 3ft Off The Ground in Edinburgh and invited me to audition) I worked for Graeae, also Spare Tyre, Birmingham Rep, New Wolsey (playing Laura in The Glass Menagerie), Forest Forge, Kazzum, Taking Flight and I also acted in 8 radio dramas. From about 2015 I started to move into directing as I realised how much I love creating work. Maintaining a career has been tough, hard work and at moments I wanted to quit. I worked at Cheltenham Town Hall box office to enable me to earn money when the acting jobs were few and far between. It actually kept me grounded and really value the acting work I was getting at the time.
In 2012 you reached a worldwide audience with your performance at the opening ceremony of the London Paralympics.  How did that come about and what was it like?
It was definitely once in a lifetime and I can't believe it's 10 years ago now.
I was originally in the POC as a wheelchair dancer. I was in Apple and Storm sections. That was all I knew. Then a month before the ceremony I was asked to audition by doing a piece of text to camera. I was invited back to try flying in a harness. I was excited, nervous and remember thinking, 'you know what, even if I don't get it at least I've had a go at flying.' That audition was incredible! I was doing a roll poly in the air. It felt so freeing. I then got in the car and drove from East London to Caridff to visit my best mate in hospital and as I pulled into the hospital car park I had the phone call to say I was going to be Miranda and rehearsals would start the following week. I was on cloud nine! I only told 2 friends and my parents. My brother and sister only found out the day before the ceremony when it was in the newspapers. I was impressed that my mum had kept a secret!
Rehearsals were intense, learning how to use a harness and fly plus working alongside Sir Ian McKellen and my dear friend Dave Toole. Dave and I flew up to one another during the ceremony – one I will never forget. A moment we shared. I felt proud to share the evening with so many disabled artists who are my dear friends.
You have a long- standing relationship with the disability led theatre company Graeae who are producing Kerbs.  Can you tell us a bit more about that?
I've worked with Graeae in many capacities over the last 20 years – as actor, workshop facilitator, assistant director and Associate Director. I was Head of New Writing from April 2019 – September 2021 which was a great experience. Graeae taught me all I know about creative access and for that I'm extremely grateful. They are a fantastic company and I love working with them. It feels like home. Graeae introduced me to many disabled artists, Mandy Colleran, Mandy Redvers Rowe, Laurence Clark (to name a few Liverpool artists) and many more. During my time as Associate Director and Head of New writing I met Mike and fell in love with Kerbs. A play that made me laugh and feels so relevant to today. A story that we rarely see on stage or indeed anywhere. So excited that we are bringing it to audiences.
Last year you were appointed joint artistic director of Liverpool's D/Deaf and Disability arts organisation DaDa.  What is DaDa? What is its relationship with the city of Liverpool and what aims do you have for it for the future?
DaDa is a brilliant arts organisation based in The Bluecoat in Liverpool. We develop disabled, Deaf and neurodivergent artists through our Fellows Talent Development Scheme and also our outreach programmes for younger artists. Their work is showcased at our biennial festival at venues around the city. DaDa is cross art form which is extremely exciting. We are currently working with Liverpool Philharmonic, Youth Music and Resonate, National Student Drama Festival, Alder Hey Hospital and many more. My aim is to make DaDa a beacon for disability arts in the North West and beyond. To develop artists and provide platforms for their work across Liverpool and the North West. An exciting time as we head to our Festival in 2022 and then our 40th birthday festival in 2024.
How has the global pandemic affected your work? How did you get through this difficult period?
It's affected my work greatly as theatres were hard hit and I was also shielding for nearly two years. I joined DaDa early March 2021 which was difficult as I didn't get to meet people in person until November 2021. Previous to this I was making a lot of work online, such as Crips Without Constraints Part One & Two for Graeae, MMXX and Connect Fest for Royal Exchange Theatre. I enjoyed this work but Zoom fatigue definitely starts to set in however much I was grateful and enjoyed making this work. Being back in a rehearsal room has filled me with joy. Although every day I am anxious about Covid but we are taking precautions such as Lateral Flow Tests, mask wearing about the building and closed rehearsal rooms. Fingers crossed we make it happen smoothly.
What's coming up next for you? Do you have projects in the pipeline?
Next up I'm working on an outdoor collaboration between Black Gold Arts and DaDa. This will tour outdoor festivals over the summer, starting in Liverpool early June. DaDa's newly formed young company are also devising and rehearsing their play that they are premiering at the National Student Drama Festival at The Curve in Leicester, April 2022 before it transfers to Liverpool. I'm also working with local writer Laurence Clark on his play Cured and of course also programming DaDa Summer and Autumn festivals with the DaDa team. Excited to see what our DaDa Fellows make to showcase at the festivals this year. And to be back in  the Bluecoat more often. The coffee there is great! Plus to catch up with artists across Liverpool and the North West.