A lockdown update from our Training & Learning team
By Jodi-Alissa Bickerton, April, 16 2020
A message to our artists, young people, families, schools, creative partners and all who support us.
Before lockdown, Graeae's Training & Learning programme was powered up and delivering one of our most dynamic and ambitious annual programmes yet. We launched a newly accredited course in theatremaking and leadership for a bright, new Ensemble, established two artistic residencies working with disabled young people including at Highshore and Richard Cloudesley schools, grew a new artist bursary in great honour of the late Sophie Partridge, embarked on joyful artistic development with A Winter's Tale and inclusive casting  development for a new generation of film-makers.  
All of this has, can or shall most definitely and defiantly continue! We've made some brilliant discoveries during lock down, like our digital reimagining of A Winter's Tale via Zoom with full BSL integration, but also made admissions around projects which are not for the online world. We've maintained our integrity and commitment to accessibility in this way and found new personable ways to continue the Graeae mission until we can return to share a space again. Never has it been so crucial to ensure our community can remain the heart of Graeae.
We are most missing being together in shared physical spaces, but we remain open to all our community who each year make our Training & Learning programme and Graeae's mission flourish. 
And so now we hand over to the young disabled people of Highshore School (a project in partnership with A New Direction) to share their responses and creative writing on the theme of Power…
A New Direction and Tate Modern Take Over
These are the responses from 6th form students at Highshore School, who took part in two taster workshops with Graeae on the subject of power.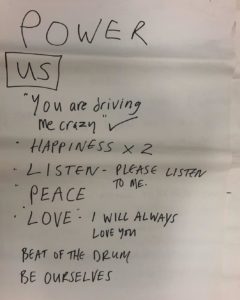 Power –  who has it:
Parents
Foster parents
Teachers
The Queen
Trump
Media
Government
NHS
Climate
Science
Knowledge
Words
Technology
Police
Law
Communication
We (young people) can have power
Who doesn't have power:

Deaf and disabled people
Old people
Babies
Climate
NHS
Science
We (young Deaf and disabled) people
Power to us means: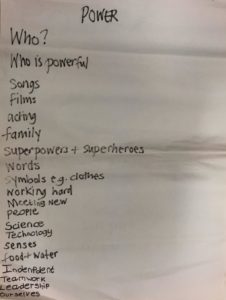 Integrity
Thinking
Having confidence
Physical strength
Mind strength
Team work
Working hard
Honesty
Equality
Listening
Thank you, Highshore Students (listed below) and we'll see you again very soon!
Emmanuel Adegoke-Adams
Maria Akamune
Ferdi Bas
Luke Beddoe-Howard
Fisayo Bello
Marcel Brown
Elizabeth Fatoke Osobukola
Alan Gigi
Demi Hull
Suhail Hussein
Jada Ibuno
Sam Jacobs
Taha Khan
Sheri King
Patricia Meneses Caldeira
Temi Oyewole
Zara Panton
Marcus Taylor (LAC)
Esther Wilson-Idowu
Elin Woolvett-Gustavsson