Reasons to be Cheerful production diary
Week eight – A week in Leeds
By Paula Stanbridge-Faircloth
It is the wrong side of 3am on Sunday morning after our last show in Leeds. I am in the casino and have just lost £200 on the roulette wheel. £200 of someone else's money. And as I've just met him, I can't quite remember his name. How did this happen?
Let's go back in time to Saturday night, the last show at the West Yorkshire Playhouse, (cue jingly time travel synth, twinkly cymbals and wavy arm dancing).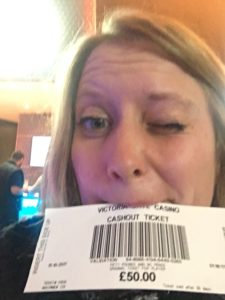 The audience have been amazing. By the time the encore rolls around I feel I have travelled back to 1979. I am Charley Charles drumming with Ian Dury and the Blockheads at the Hammersmith Apollo. No, I'm not deploying the Stanislavski method, the audience is making me feel this way. The lights go down. All you can see is the small light from the sound desk amongst the seats. The audience is up; stamping their feet and cheering. The audience is going crazy. Here comes John Kelly, with flat cap and neckerchief. He's  saying "I wanna hear you sing with me… give me some sex… and drugs… and.. rock and roll." He has them in the palm of his hand, echoing 'hit me­­­' and grinding their hips along with Janine. The experience is so exhilarating that you need a drink or 10 to calm the f**k down afterwards. And err that's how I ended up at the casino, the wrong side of 3am gambling away someone else's money. (Thank you, as it turns out Paul, for an enjoyable evening, and JK for knowing such generous people.)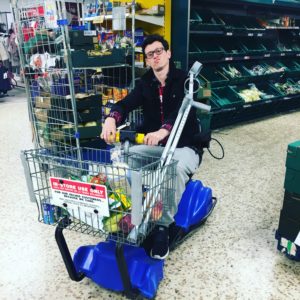 Theatrical challenge of the week:  Having to reblock the show in Ipswich because Stephen Lloyd (Vinnie) took a huge jump during the encores and landed on his ankle. He has a very bad sprain and is now on crutches. New improved Vinnie needs a little assistance with his props and we have to be extremely creative with the choreography all over again.
Fave audience story from Leeds: Shout out to the lad in the Blockheads t-shirt and the motorised wheelchair who told John he saw us perform Spasticus Autisticus at the Paralympics, knew nothing about Graeae, read up online and loved the music and desperately wanted to see the show. He had been sporadically Googling Reasons to be Cheerful for the past five years on the off chance that we did another tour. 2017 was your year! Here's to hope, persistence and decent broadband speed.
Whoops moment of the week: One of the set signs, falling off the monitor and sticking itself to the floor – and watching all the cast try to pick it up to no avail, during the show, so no one slipped on it. It was like that schoolboy prank where you glue a £1 coin to the floor and watch everyone with glee as they struggle to pry it free.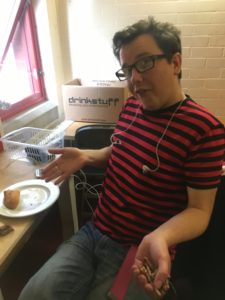 Company mention of the week: Goes to James Haggie who stepped in for Paul on guitar this week as he was working on launching his new play Oxy and The Morons at the New Wolsey, Ipswich. Haggie was not only a pro, who learnt everything with no extra band calls this week, he also ate a lot of the Twiglets we use on stage, much to the chagrin of Patricia our CSM who now has to buy some more – a feat in itself, as it's a universally acknowledged fact that Twiglets are nasty. Good job chap!
Have a look at Paula's own blog here
Reasons to be Cheerful
Touring until 4 November 2017. 
Click here for tour dates and booking information.
Week Seven – Returning home to the New Wolsey Ipswich
By Paul Sirett
Ipswich. The New Wolsey is a special place for those of us who have been part of the Reasons to be Cheerful gang since the first performance of our show in 2010. The first performance of any new show is nerve-wracking but that night was more nerve-wracking than ever for me – not only was it a show I had written, it was a show I was performing in (I play in the band). No matter how hard you work, not matter how much experience you have, not matter how hard you try, you never know if a show works or not until you put it in front of an audience. That night remains etched in my mind because as I lifted my head to look out at the audience after playing the last chord of the last song, wondering if I was about to be pelted by rotten tomatoes, I saw the audience up on its feet applauding and cheering. Phew!
As we stood backstage, waiting for clearance to begin the show last Tuesday, Jude (who plays Debbie – who did the dancing, sorry, choreography) turned to me and said, "It's like coming home doing the show in Ipswich again." So true. And, just like in 2010, and 2012, the audience was up on its feet again. It's always nice to come home.
I have another memory from seven years ago that came flooding back to me as we began our first performance in Ipswich. On our first night in 2010, I will always remember looking out into the audience and seeing a family sitting together in the front row. One of the members of that family was a young boy – 10 or 11 years old. Now, those of you who know the show will know that it has some pretty strong adult content – I thought there was very little chance of the family coming back for Act 2. But not only did they come back for Act 2, they have been coming back for the last seven years and on Tuesday night there they were again. I think they must have seen the show over twenty times now. All hail the Jackson family! Gratitude to them and all our friends (like Paul Monkhouse and his son Sam) who come back time and time again to see the show. Thank you!
There are several wonderful things about playing in the band for this show – I get to play great songs, I get to play with great musicians, and I get to watch the audience reactions. It's much better than being a writer and sitting in the audience. The only thing I need to watch out for is that I don't mouth all the actors' lines as they speak them – on our first tour I was awarded a prize by the production team for lip-syncing the entire script every night – I still find it hard not to do it.
Perhaps the biggest event of the week off-stage was the birthday of our legendary front man and vocalist, Sir John Kelly. Sir John is a superstar and Reasons would not be Reasons without him. Happy Birthday, Sir John – we salute you!
One of the great things about Reasons is that the style of the show means that when things go wrong, we don't have to pretend it hasn't happened. During the encore on Saturday night, brilliant Stephen Lloyd (Vinnie), was doing his usual high-energy jumping here, there and everywhere, when he twisted his ankle. He's got a bad sprain and he's now on crutches. But this being Reasons, we'll just carry on and integrate Stephen's injury into the show. There can't be many shows where you could do that! Oi Oi! Get well soon, Stephen!
Reasons to be Cheerful
Touring until 4 November 2017. 
Click here for tour dates and booking information.
Week Six – A week in Southampton
By Karen Spicer
Day 1
I wake up and make coffee for me, then set out from my digs to the bus Stop.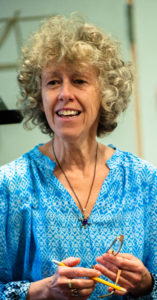 It's a perfect english autumn day. The Sun is shining, the Sky is blue, and the bus is blue. I turn the corner and there is JK and Vinnie on a poster on a telephone box. I check that Pickles is not inside talking to Derek or robbing the coin box, I shout OI Oi and run for the bus…ANARCHY!
At the Theatre our gorgeous crew have been working nonstop. The set is ready, our genius Director Jen is with us and the lovely Nuffield Theatre Team treat us to our first meet and greet of the tour…Reasons To Be Cheerful 123….but no wait…there's more! The lovely Helen arrives with Reasons t-shirts from the lovely Kate! Christmas has come early…I need a Bacardi and Coke, a Walnut Whip, and some Thunderbird Wine.
Then before we know it …Reasons To Be Cheerful, we will definitely start with Reasons To Be Cheerful. The Lights change on the stage, Joey counts us in, the audience recognise the chant from the start of the song, and here he comes, JK..mic at the ready, rolling forward, Scarves, t-Shirt, chains. The Band kick in, and Vinnie, Colin, Janine, Pickles, Debbie, swing into action, Pat downs a Bacardi, Bill is on Percussion,and so Southampton it begins.  A fab first night a lovely audience, a lift home from our beauty Jude and zzzzzzz.
Day 2
I find a Bacardi glass in my digs. I was clearly meant to be here! Our Steve Collins does a brilliant show tonight, despite feeling unwell. He really is Reasons Glory.
Day 3
Our Steve is much better and he and I manage to go out on our weekly, veggie, vegan, signing  lunch date. We eat fab food, I attempt to sign and Steve practices having the patience of a saint. Another great audience enjoys another night of Sex and Drugs and Rock and Roll and the students of Southampton in their fresher's week continue to drink up, drink up, drink up, in town, then fall over!
Day 4
We end another good night at The Nuffield Me and Jude go back to my digs, drink Tea and Wine and at last recline and sleep the blissful sleep of being in comfort and safety.
Day 5
Our last day. Two Shows and the 40th Anniversary of New Boots and Panties. Derek from The Blockheads turns up to cheer us on in the matinee, and the last night is packed. We end our Southampton run with the audience up dancing singing and cheering.
Thank You Southampton. We have had …….GOOD TIMES……Cheers.
Reasons to be Cheerful
Touring until 4 November 2017. 
Click here for tour dates and booking information. 
Week Five – A week in Derby
By Wayne 'Pickles' Norman 
Oi Oi!!
"Good evening, I'm from Essex in case you couldn't tell, my given name is Pickles and I'm doing very well." That is the start to the audio description of the show while I'm fumbling getting old 10 pence pieces into the slot of the original payphone I use onstage. It is specially wired up for any blind, visually impaired people or anybody really, using the headsets.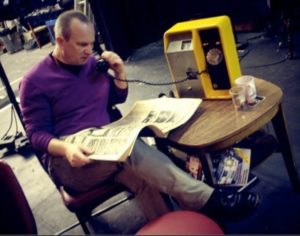 I'm still so proud and privileged to be part of this remarkable show, it's just fantastic to be doing it again since we last did it five years ago. Apart from touring the world in that time with the gig version, obviously. We're a bloody great tribute band!
We have just finished our second week of the tour in Derby, and what a week it was.
I arrived on Monday night to my lovely digs (it makes such a difference having a good base for the week), to find the nice surprise that Karen Spicer (Pat in the show) was staying in the same house. So on Tuesday morning, Spicer and I headed into town on the bus, via a greasy café to start the tech day and first show that evening. It went really well, the audience were great and the reactions got even better each night. A cracking show on Wednesday too, press night. All the Graeae posse turned up en masse with loads of 'RTBC' related badges. To celebrate we all went for a few cheeky shandys after, some of us ended up in the casino for a late night flutter!
For me this week has been all about tweaking the audio description for the show now we are up and running. Unlike the rest of the cast who have to stick to the script word for word, because it's up on the screen behind them (no hiding), I have never done the same show twice. The more we do the show, I get to know it again really well. Then I can add a little bit more detail into gaps or ask the actors to give me an extra second or two to fit stuff in. Those seconds are important. I have a template now of my script which I can adjust or improvise on each show. My AD is character based, I'm one of the locals in the pub who has the odd opinion or two! But I love being able to get up to dance and sing some of those iconic songs I grew up with. I was lucky enough to meet Ian Dury a couple times and saw him perform with the Blockheads too.
We had a phantom scribbler one night who secretly graffitied our dressing room doors!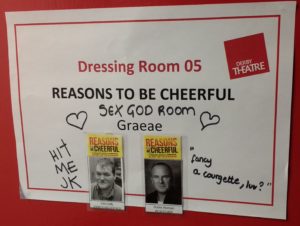 The last night in Derby was amazing, the audience were right up for it from the start. Wonderful responses to each of the songs, singing along at times. When Pat makes a toast at the end to 'Good times' they all shouted back and applauded (that started me off), really emotional. Then the encore was something else, the whole audience were up singing, signing and dancing. But the reaction to the new song (written by our very own John Kelly, Chaz and Derek of the Blockheads) at the end was brilliant. Applauding lines in the song about saving the NHS and stopping cuts. Some of the audience were in the bar after and cheered and applauded each of the cast and band as they individually came in. I forgot how much people absolutely love this show.
It was the perfect finish to our time in Derby before a week off for us all to recharge and 'give it large' for the rest of the tour. Southampton here we come, you lucky people!
Week Four – A week in Coventry
By Max Runham
Oi Oi!!
Max Runham here from the cast of Reasons to be Cheerful.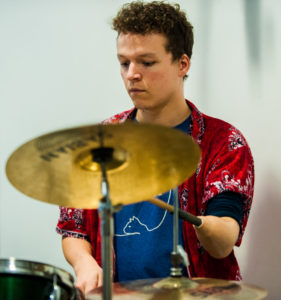 We just got to the end of our first production week in Coventry and we had an absolute blast. So why not tell you a little bit about it.
Our week started off with a day-off on Monday. But who wants to hear about that?
Tuesday came along and we were called in to Theatre Royal Stratford East for the morning for a session led by the lovely Daryl Beeton (Associate Director) on the stage of the theatre. We basically spent the morning going through the whole show and tightening up all the final details. However, why start working on detail until you do a full run of the show in 3 minutes? Nothing like putting no detail whatsoever into what you're doing to inspire you to work on detail. We actually took about 4 and a half minutes. We just cared too damn much about the story to leave bits out. Let's just say that.
We had a smashing day and a pretty damn productive day. Feels like exactly what we needed just before heading up to Coventry later that day. Most of the cast went straight from Stratford to Euston and got the train up. I headed back home and packed my stuff up into the car and drove mah wee Corsa up north.ng look from the landlord. Then went to meet up with my room mates. Joey and Louis. The certified cheeky chappies of the company who were indulging in a rather lavish meal at Cafe Rouge. I might have joined them for a lil glass of red (or two). Then we headed back to our digs where, for the first night.
Then we were up bright and early for a 9am start at the theatre. I nabbed myself a rather tasty toastie and a coffee from Conroys just around the corner from the theatre and we headed in.
The day got off to a slightly slow start, as a lot of techs tend to, as we all tried to figure out the best way to start the show. It was important that we got this right as it sets the scene and the vibe for the way the show works. Once this was sorted, we hit the ground running. And Jenny Sealey, Jeni Draper and Judith Kilvington hit the ground wigging!
So other than a few heads being hit on the low hanging set pieces, a couple of glasses of "beer" being knocked all over floor and a pretty intense face off between Mr John Kelly and Harold (our resident statue), the first day of tech went rather swimmingly.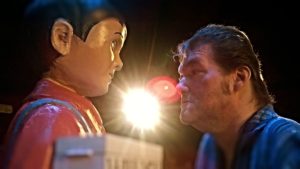 After a little visit to the Town Wall Tavern the previous evening and maybe a cheeky visit to eat a naan bread full of nachos, chips and cheese sauce.. We were ready for day 2!
All went, once again, very well. We planned to finish the tech in time to do a dress rehearsal that evening but we ended up finishing our tech at about 8 o'clock, so we decided to use the last two hours to brush up some of the things we'd be putting on the back burner. This gave Joey a lot of time to tighten up a lot of the harmony parts in the show.
Onto day 3, we were called in at 11am with another vocal from Joey to get us into ship shape for the dress run in the afternoon. Needless to say, there was excitement buzzing around from everybody who was raring to see how these last few weeks would pull into a finished product. Bar a couple of very minor hiccups, the dress run went very well and we had some lovely feedback from a few people who came to see it. And after a few changes to costume, with a brand new funky 70's look and a trouser toad for me…
We felt ready. So Louis celebrated the occasion by putting a paper cup on my head. I was, as you can see from my face, instantly filled with an eager spirit.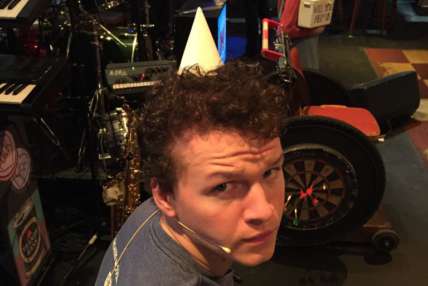 It came to our opening preview and we were all eager to get out there and give it everything we had. We knew that show needed an audience to really come alive so we were all intrigued to see how it would affect the show and how it would come across. Daryl was particularly excited…
I think, for the members of the cast who had done it before, they were pleasantly affirmed.. And for the new members, myself included, we were incredibly, pleasantly surprised. The show absolutely came alive. The audience were fantastic and gave us everything we needed to get the story across and make the songs breathe. The feeling after the show was wonderful. Everyone was on an amazing high, if maybe a little tired from a long week. We knew we had one more long day ahead, so we stayed out to celebrate for a little while then headed back for a good night's rest before heading back in for notes in the morning. Unfortunately a pretty gloomy morning.. Luckily the gloom had a double rainbow in it.
LET'S BLOOMIN' 'AVE IT, SAUSAGES!
Over n out!
Max