Reasons to be Cheerful rehearsal diary
Week Four
By Max Runham
Oi Oi!!
Max Runham here from the cast of Reasons to be Cheerful.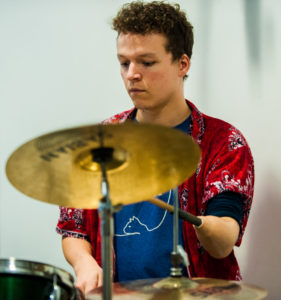 We just got to the end of our first production week in Coventry and we had an absolute blast. So why not tell you a little bit about it.
Our week started off with a day-off on Monday. But who wants to hear about that?
Tuesday came along and we were called in to Theatre Royal Stratford East for the morning for a session led by the lovely Daryl Beeton (Associate Director) on the stage of the theatre. We basically spent the morning going through the whole show and tightening up all the final details. However, why start working on detail until you do a full run of the show in 3 minutes? Nothing like putting no detail whatsoever into what you're doing to inspire you to work on detail. We actually took about 4 and a half minutes. We just cared too damn much about the story to leave bits out. Let's just say that.
We had a smashing day and a pretty damn productive day. Feels like exactly what we needed just before heading up to Coventry later that day. Most of the cast went straight from Stratford to Euston and got the train up. I headed back home and packed my stuff up into the car and drove mah wee Corsa up north.
I settled into my digs, lugging a pretty substantial amount of music equipment into the house which was met by a slightly alarming look from the landlord. Then went to meet up with my room mates. Joey and Louis. The certified cheeky chappies of the company who were indulging in a rather lavish meal at Cafe Rouge. I might have joined them for a lil glass of red (or two). Then we headed back to our digs where, for the first night.
Then we were up bright and early for a 9am start at the theatre. I nabbed myself a rather tasty toastie and a coffee from Conroys just around the corner from the theatre and we headed in.
The day got off to a slightly slow start, as a lot of techs tend to, as we all tried to figure out the best way to start the show. It was important that we got this right as it sets the scene and the vibe for the way the show works. Once this was sorted, we hit the ground running. And Jenny Sealey, Jeni Draper and Judith Kilvington hit the ground wigging!
So other than a few heads being hit on the low hanging set pieces, a couple of glasses of "beer" being knocked all over floor and a pretty intense face off between Mr John Kelly and Harold (our resident statue), the first day of tech went rather swimmingly.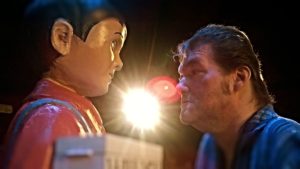 After a little visit to the Town Wall Tavern the previous evening and maybe a cheeky visit to eat a naan bread full of nachos, chips and cheese sauce.. We were ready for day 2!
All went, once again, very well. We planned to finish the tech in time to do a dress rehearsal that evening but we ended up finishing our tech at about 8 o'clock, so we decided to use the last two hours to brush up some of the things we'd be putting on the back burner. This gave Joey a lot of time to tighten up a lot of the harmony parts in the show.
Onto day 3, we were called in at 11am with another vocal from Joey to get us into ship shape for the dress run in the afternoon. Needless to say, there was excitement buzzing around from everybody who was raring to see how these last few weeks would pull into a finished product. Bar a couple of very minor hiccups, the dress run went very well and we had some lovely feedback from a few people who came to see it. And after a few changes to costume, with a brand new funky 70's look and a trouser toad for me.
We felt ready. So Louis celebrated the occasion by putting a paper cup on my head. I was, as you can see from my face, instantly filled with an eager spirit.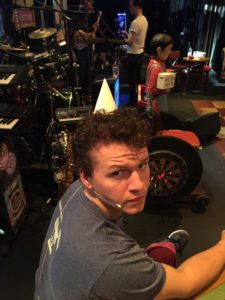 It came to our opening preview and we were all eager to get out there and give it everything we had. We knew that show needed an audience to really come alive so we were all intrigued to see how it would affect the show and how it would come across. Daryl was particularly excited.
I think, for the members of the cast who had done it before, they were pleasantly affirmed. And for the new members, myself included, we were incredibly, pleasantly surprised. The show absolutely came alive. The audience were fantastic and gave us everything we needed to get the story across and make the songs breathe. The feeling after the show was wonderful. Everyone was on an amazing high, if maybe a little tired from a long week. We knew we had one more long day ahead, so we stayed out to celebrate for a little while then headed back for a good night's rest before heading back in for notes in the morning. Unfortunately a pretty gloomy morning. Luckily the gloom had a double rainbow in it.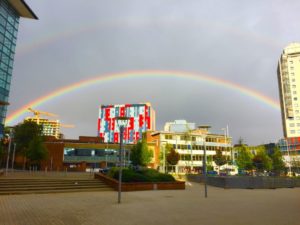 All in all, the creative team were very happy with the show. It felt, to all of us, that the show had finally become what it needed to be. There were obviously still things to fix, as there always will be. But the essence of the show had started to show itself.
Being a captioned performance, the main note we had to focus on, especially after the matinee, was making sure we were being as detailed as possible with the text which we all tried our best to carry through the next show. We also became very aware how easy it is for this show to shoot under the bar if we don't give it everything we've got. I think we're all going to be as fit as fiddles by the end of this tour.
We had one last show to get through in Coventry and we had everything we needed, along with a few changes to help us to give everything we had to this last show. And, helped by an absolutely amazing audience, we had the most fantastic show we'd had so far. Everything felt like it had clicked into place and the audience responded to it. Onward and upward in this fashion and I think we're in for a hell of a tour.
Everyone's departed from Coventry now, on their way back home for a couple of days or straight to Derby for the next instalment of bonkers, raucous theatre! Joey and Louis gave me their send off with a lovely lil 'getting on the road' photo as they headed down to London on Saturday Night.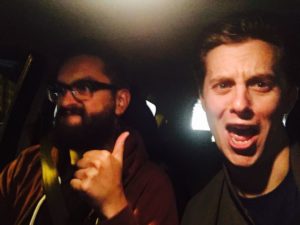 LET'S BLOOMIN' 'AVE IT, SAUSAGES!
Over n out!
Max
Week Three
By Joey Hickman
Hello I'm Joey and I'm the Musical Director for Reasons to be Cheerful. This week has been quite the week! It was week 3 of rehearsals for the actors and week 2 for the band. It was our final week of rehearsals so our last push to get everything ready for technical rehearsals in Coventry this coming week.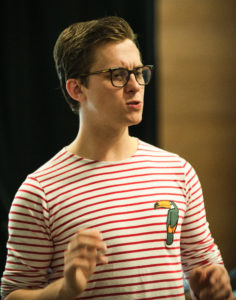 We started the week on Tuesday after having had a very luxurious 3 days off on the bank holiday weekend. Lucky us! So we came to rehearsals feeling very refreshed and ready for the week ahead. Tuesday was a big day for me because we had Chaz Jankel and Derek Hussey from the Blockheads coming into rehearsals to hear our arrangement of their new song, 'If It Can't Be Right Then It Must Be Wrong'. They wrote the song along with our very own John Kelly so I was very excited to have them in but also a little nervous. I wanted them to like what we'd done with it..!
Chaz and Derek arrived after lunch and we were back in the rehearsal room all introducing ourselves. Very cool. We set up to play 'If It Can't Be Right Then It Must Be Wrong' and they loved it. We played it through a few times and they gave some really useful no tes and ideas of how to make it sound and groove even better. I was chuffed with their feedback and response, which made me confident and excited for the next chapter of the new song – the recording.
Wednesday was the day of recording and myself, Paul (Guitar and writer of the show), Nixon (Bass) and Paula (Drums) were up in Belsize Park at the recording studio for 9:30am with a long day ahead of us. Funnily enough my best mate and housemate. ANYWAY, the recording session started around 10am and Chaz and Derek arrived to produce the song. I was there leading the session musically and we laid down the rhythm section tracks by lunchtime. By that point the cast had arrived and were waiting around having a coffee so we  got them in and recorded their lovely vocals. They did a great job.
After that we got the sexy sax man that is Louis on the microphone. He played that sax as if he'd been born playing it. Very saucy indeed! Then finally the man of the hour Mr John Kelly was on that mic recording his lead vocals. He was awesome. I was worried at one point that we would run out of time but I was super chuffed that we got everything recorded in the end. We finished the day around 7pm and my mind was boggled. Nearly ended up at the pub but somehow my body took me home… That's a rare occurrence I can assure you!
Thursday and Friday we were back to reality and focussed on the show again – finessing the scene work, choreography and music. We did some really great work on both mornings and then in the afternoon we did a run of the show. This was so useful in allowing us to feel the flow of the show and where everything sits within it. Particularly beneficial for the people who have never done Reasons to be Cheerful before – like me!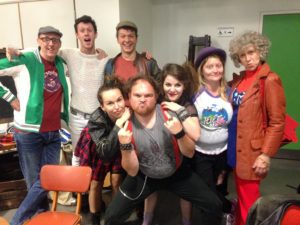 Friday afternoon's run was particularly exciting because we were in costume! Everybody looked fabulous and I am a serious fan of my costume. Big 70s collar shirt and awesome colours. In fact my whole costume hadn't arrived by Friday so I'm looking forward to the technical rehearsals next week in Coventry when I'll have the whole shebang. Not to give too much away but there are heels involved… oh yes!
Saturday morning we had another run but this time not in costume. The run went well and it had a lovely fun and relaxed energy about it, which was such a wonderful way to round off our rehearsal process. We finished the week feeling assured and ready for tech rehearsals in Coventry this coming week. We open on Friday and I for one am chomping at the bit to perform this show with an audience. It's going to be epic, raucous, hysterical, moving and 100% SAUCY!
Thanks for reading. Big LOVE one and all and Oi Oi!!
Week two
By John Kelly
"I could tell her I'm a very lucky fella"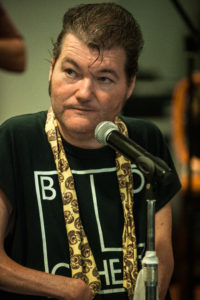 So week two of rehearsals marks week one with the band and I've been waiting for this day for ages. I was so excited heading towards my hotel in Hoxton I was like the proverbial little kid in a candy shop.
It was so good to be back in a familiar place, with familiar faces and songs that sit deep within my heart. But to be honest, as well as the familiar there was also plenty of new. New faces, new lines and even a new song.  There was enough new to keep me nervous, excited and on my toes, if you get my meaning.
It didn't take me long to realise that this was the start of another very exciting energetic journey full of naughtiness & fun with a cast packed with lovely talented people. By the end of the first day we had got our sign names (a graeae customary requirement), banged through all the numbers and had at least five full on out of control laughs.
Day two saw the introduction and exploration of our new song.  I've had the honour and privilege to be a little bit involved writing in it, but here it was about to played live for the first time with the band. The new song "If It Can't Be Right Then It Must Be Wrong" has been on paper and on a demo for a month or so but never live and suddenly we were doing it.
Like anything new we had to feel our way through the song bit by bit, but by the end of the day we had it in a place where we felt it could start to work, especially with the whole cast belting it out……oh yeah, and somehow by the end of the day we had got through the first few scenes of the show.  Not having done the full show for over 5 years, I had really missed how the songs sat together in a story.  In getting those few scenes done I felt the old songs as they were back then, that they had their place again, it was like a muscle recall thingy, you know it felt right but you're not sure how you remember it, it's just there.  The narrative of the show gives the songs a life and edge that i just love. It felt good.
So we ploughed through the scenes, the songs, the laughs, getting to know each other, getting to know the script with all its new bits. Its high energy and rehearsing the show is hard to do without giving it that full energy it needs. So the muscles, bruises and stamina are all developing nicely as we get further into the show.
By Friday the new song was alive and we were ready for a run through.  A run through is a bit like I imagine riding a wild horse to be…a bit scary getting on, holding on very tight, hoping the horse knows where its going and that you get to a destination alive but exhilarated. That's not a bad feeling to have on a Friday afternoon now is it? We survived the run through with everything happening as it should….in a way…and when it didn't…well it's anarchy ain't it.
The week finished with a little drinky, more laughs, everything new now more familiar and feeling oh so right. Next week, we record the new song, dissect the show and songs further and to use the wild horse analogy one more time, we get on it, hold on and find our way.  I hope this horse always stays wild though…..
Not sure why me blog took a horse turn, when I started I thought it might be about sausages and big curtains in my hotel room, funny how things turn out…oh and the title of me blog, yep from crippled with nerves and a sentiment of how I feel, to be very lucky and privileged to be a part of this amazing show and company. Enough of the sentimental…lets do Blockheads!
Ave it Sausages!
Week one
By Stephen Lloyd – Vinnie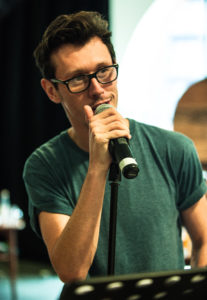 Monday 14 August 2017, seven years on from the very first meet and greet and here we are again saying "Oi Oi" to old friends, familiar faces and fresh blood on day one of rehearsals for the new and final UK tour of 'Reasons to be Cheerful'.
An informal start to the week, sharing and learning each other's sign names whilst marvelling at all the exciting bits and pieces of the new set (won't give anything away here. Look to my gossip column for that kind of stuff). Foolishly I assumed we'd then sit around a big table, knock back the coffee and have a good read of the latest draft. Come on Steve, how many times have you done this show? Should know by now. No read through, straight into the deep end; a full on, stagger, stumble, rough round the edges (in the best possible way) run through; a solid chance to see what we know, what we don't and what the new company members have let themselves in for. Well everyone came back after lunch, so that's a good sign, straight into seeing how much we remember of the old choreography for each of the numbers (including Blockheads). Walked home with achy legs, stiff arms and the lyrics of Plaistow Patricia going round and round my head. Early to bed.
The rest of the week is to be treated with very much the same spirit: quite simply, 'ave it!
Tuesday sees us working through the script, scene-by-scene, moment-by-moment, discovering, re-discovering and giving initial life to these characters and story. It was during this that it became apparent that I have been playing Vinnie for a very long time, and that being 18 was a good while ago. Being *cough cough* years young, I would need to re-discover the character, focusing this week on his physicality, voice and general Vinnisms. There is a kind of limbo feeling to all of this, a blurred state of being, bringing old discoveries and character choices into the room whilst letting go and creating and offering fresh ideas. But before things get too deep, we're treated to a surprise visit from Jemima Dury, who encouragingly observes some of the rehearsal before being dragged into the space herself to learn how to sign the song 'Blockheads' (don't tell our vocalist, John).
By Wednesday I'm starting to feel Vinnie coming back. The voice is getting there, a stronger but looser East End tone than my own. I also have decided to wear his leather jacket throughout the day, to find where his posture sits and how it effects the way I move around the space. We're getting there.
Harmony work with Joey, our Musical Director, is going great, some gorgeous new ones thrown into songs like 'Sweet Gene Vincent'. We were lucky to have voice coach Chris Holt join us on Thursday who took us out individually throughout the day to work on our characters and moments from the show, whilst the rest of the company began to learn the signs for the new song.
Late Thursday evening we confidently attempt a full on stagger run and I think I can say that we're all pretty pleased with the current shape of it.
We spend all day Friday working with choreographer Mark Smith on some of the numbers, looking at what we did on the 2012 tour and how we can improve on them including throwing more sign language into the song 'Clever Trevor'.
It's been a very successful first week, laying down foundations before the band joins us on Monday. Oh yea, and we've created a new version of the game 'Zip! Zap! Boing!' called 'Oi! 'Ave It! F**k the System!'…don't ask.