Writers: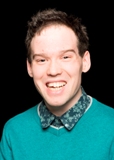 Tom Wentworth
Tom is currently under commission to Graeae and Pentabus and has several projects in development with other companies and across mediums. His recent credits include Tightropes (Amplified Theatre), Bee Happy (Old Red Lion) and Windy Old Fossils (Pentabus). When not writing he can mostly be found watching other people's plays or reviewing them for publications such as Disability Arts Online and Exeunt. He loves working with Graeae because of the boldness and scope of the work they produce. He lives in Cardiff where he likes to work in his favourite coffee shop and treat himself to a slice of cake.
"Write to Play has been an excellent opportunity to develop my skills as a playwright, pushing myself by writing a larger scale play; gaining confidence through the master classes and mentoring. I've also gained fantastic access to valuable industry contacts which I hope will help me to sustain my writing career."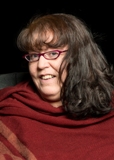 Rosaleen McDonagh
Rosaleen is a Traveller and a feminist. Her work includes The Baby Doll Project, Stuck, She's Not Mine, and Rings. Rings was performed at VAS in Washington in June 2010. She was shortlisted for the PJ O' Connor radio play Awards in 2010. Rosaleen has a BA in Biblical & Theological Studies, an MPhil in Ethnic & Racial Studies & an MPhil in Creative Writing, all from Trinity College Dublin. She is currently a PhD candidate in Northumbria University. This November, Fishamble at Project Arts Centre produced her play 'Mainstream' as part of its 50th birthday celebrations. Rosaleen also wrote a short piece for Graeae's What I was Told I Could Be, which premiered at Hampstead Theatre main stage as part of Sphinx Theatre's Women Centre Stage Festival in November 2016.
"Not in my wildest ambition or imagination did I think I'd be sitting, writing my play Context in the Peggy Ramsay room at the Royal Court."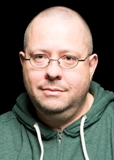 Sean Burn
During his time on Write to Play, sean's last full-length play collector of tears was toured nationally by gobscure, chosen by the British Theatre Guide as North-East Play of the Year 2014, and published by Aurora Metro. Since being on Write to Play and working closely with his mentor Selma Dimitrijevic, sean and his company gobscure have become associates to the Newcastle-based theatre company Greyscale, where sean is developing a play called joey s/he for 2016/17.
"write to play's helped me move on as a playwright, definitely. it's given me access to a body of critical friends that i didn't have previously. it's also provided me with a welcome opportunity to develop flowers of the forest which is bigger and bolder than anything i've attempted previously."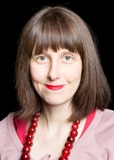 Nicky Werenowska
Nicky's plays include "Davy's Day" (Mercury, 2004), "Peapickers" (Eastern Angles, 2007), "Freedoms of the Forest" (Menagerie, 2008), "Birth-Date" (Nabokov, 2012, part of 'Best Years' series), CASH! (Mercury, 2013), "Tu I Teraz" (Hampstead, The Nuffield, the Mercury, 2012/13), "Tattooed Under Your Skin" (Theatre 503, Acts of Defiance Festival, 2016). Her work has been shortlisted for national playwriting competitions including the Verity Bargate, and long listed for the Bruntwood and Papatango. Since being on Write to Play, Nicky has taken part in the Royal Court National Writers' group and is playwright in residence at Essex University. She is currently developing work with the Mercury Theatre, Graeae, Eastern Angles and the New Wolsey. Her play about disability, "Hidden", will tour in 2017.
"At the beginning of this process, I was a playwright in hiding. In hiding from my dyspraxia, in hiding from the person and the writer I am and could be. Now I feel I belong. I don't have to hide anymore. It's been life-changing, transformative, beautiful. Thank you everyone."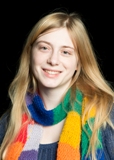 Amy Bethan Evans
Since Write to Play, Amy continues her work as Associate Dramaturg of Bristol Bierkeller Theatre, producing the acclaimed New Writing Platforms, teaching workshops and providing creative networking opportunities. She also script-reads for Graeae and facilitated a workshop on the writer/actor relationship for Graeae's Ensemble. Amy has just completed Training as a TV script editor on Think Bigger's Writers' Cramp course and looks forward to shortly writing another play for Soho Theatre's Writers' Lab commencing in November. Amy also wrote a short piece for Graeae's What I was Told I Could Be, which premiered at Hampstead Theatre main stage as part of Sphinx Theatre's Women Centre Stage Festival in November 2016.
"I am absolutely delighted to have been on Year One of Write to Play. I feel I have become more confident as a person and pushed my writing to places I never thought it would go. Aside from the writing, the working relationships, industry knowledge and insight this programme have brought me have been brilliant."
Partners:
'The National Theatre Studio is delighted to be a partner in the Write to Play programme, excited by both the work and with the partnership with Graeae, the Royal Court and Soho Theatre. We hope that the writers that come through the programme will benefit from the inspiring, creative environment of the Studio and look forward to supporting them in developing their work.'
Sarah Murray, Head of Studio, National Theatre Studio
'I am honoured that the Royal Court will be part of Graeae's brilliant Write to Play initiative. Any programme that aims to support, develop and nurture D/deaf and disabled writers is vital to the overall health of theatre and a wonderful opportunity to unveil new writers and stories for our audiences.'
Vicky Featherstone, Artistic Director, Royal Court Theatre
'Soho Theatre is delighted to uncover these incredible and unique voices and to be involved in their development. We look forward to supporting them over the next year and into the future, working alongside the fantastic company Graeae. It is a truly great project and we cannot wait to get underway.' Steve Marmion, Artistic Director, Soho Theatre
Write to Play Year 1 was funded with support from Arts Council England, Esmee Fairbairn Foundation, John Ellerman Foundation, The Big Lottery Fund, The Noel Coward Foundation, The Backstage Trust and The Charter 600 Charity.